SBA Scholars teams spent part of a recent Saturday in October delving into the airline industry when they immersed themselves in a case competition that challenged them to evaluate how to expand sales of an innovative new product from early-adopters to major carriers.
In the first of this year's three case competitions, Scholars worked under deadlines while practicing their skills in teamwork, market analysis, market strategy and implementation to create and present their realistic recommendations to a panel of judges. The first competition was sponsored by the School of Business Administration Office of the Dean.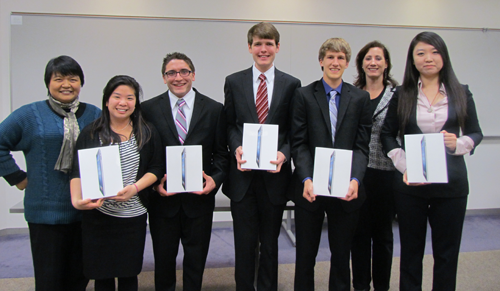 The "Go Team!" – whose members included seniors Jamie Moy, Zac Budrow and Jordan Keller, junior Xiayu Liu and sophomore David Sullivan – emerged the winners based on their work, recommendations and proposal.
"It was a tough call," says Joy Jiang, assistant professor, management, who served as one of the competition judges. "Each team did something better. The winning team did a better job in making recommendation that was most consistent with their analysis of the company's strengths and weaknesses."
All participants, however, benefitted from the experience.
"A case competition highlights the strategic challenges and managerial dilemmas global business leaders face, while challenging students to work within a team, under pressure to use their leadership and analytical skills combined with their business knowledge to develop realistic, action-oriented recommendations," explains Karen Markel, faculty director, strategic initiatives and undergraduate business programs, and associate professor, management.
"Presenting findings and solutions to a panel of judges simulates real-world settings students will experience in their professional career -- and gives them the confidence to succeed in those settings," she adds.
The next competition takes place November 10, and is sponsored by Kathy and Ken McCarter MBA '85.
After retiring from his position as Chrysler's vice president of labor relations, Ken began volunteering at the SBA in 2008. "It's always gratifying to see people achieve their goals," he recently told OU Magazine about his involvement with Oakland University's School of Business Administration.
In addition to the case competitions, Scholars members meet regularly during the academic year to participate in leadership, development and mentoring activities. This year, the Scholars also are giving back to the community through a service event in December.
Scholars is a competitive program, and students are invited to participate based on a 3.4 minimum GPA. For more information about Scholars, visit the Scholars web page (Link: http://www.oakland.edu/?id=17703&sid=398)
SBA Scholars teams spent part of a recent Saturday in October delving into the airline industry when they immersed themselves in a case competition that challenged them to evaluate how to expand sales of an innovative new product from early-adopters to major carriers.

Created by Julie Magro (jmmagro@oakland.edu) on Monday, November 5, 2012
Modified by Julie Magro (jmmagro@oakland.edu) on Monday, November 5, 2012
Article Start Date: Monday, November 5, 2012