Friday, November 2, 2012
Sustaining Excellence, securing the future of SBA's experiential learning programs
By Michael Silverstein, Director of Development, SBA
The
School of Business Administration
at Oakland University is blessed with a number of great strengths. Among them are a strong and focused administration; a dedicated and highly respected faculty; and strong, student-centered programs.
The SBA's Center for Integrated Business Research and Education (
CIBRE
) is an important asset. Through CIBRE, Oakland University's SBA develops, implements and oversees programs that educate a workforce poised to find success in a dynamic global business environment.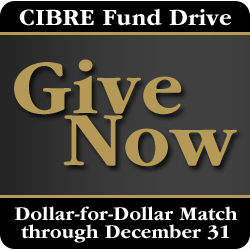 The collection of unique experiential learning programs and activities under CIBRE create opportunities for today's business students to develop and sharpen work skills in the real world, on real projects for real organizations – skills and experiences that differentiate them as they enter a competitive job market.
To ensure these programs are enshrined to help future students, the SBA is focusing its fundraising efforts this academic year on raising the money necessary to guarantee these programs will exist – and continue to flourish – for the next five years.
With a goal to raise $1 million, SBA Dean Mohan Tanniru has created a dollar-for-dollar match for the first $250,000 pledged or donated to the CIBRE fund between now and December 31, 2012. In other words, every dollar donated to the SBA's CIBRE between now and the end of the year will support our efforts to sustain excellence in business education at OU's SBA -- and it will be doubled. With a number of early pledges combined with the dean's commitment to match $250,000, we are off to a great start.
We need your support and I hope you will take advantage of this tremendous opportunity to help Oakland University's SBA continue to accelerate learning, motivate growth, and facilitate the process for our students to find their direction -- leading them to successful employment after graduation.
With such strong experiences behind them, SBA graduates continue to find jobs in a very competitive market. In fact, over the last five years more than 86 percent of SBA graduates secure employment within six months of graduation.
Please consider a gift to support OU's School of Business Administration and these important programs. You can give online at
www.sba.oakland.edu/give
, then select CIBRE Gift Support from the designation fund menu. Or contact me, Michael Silverstein, at (248) 370-2121 or
silverst@Oakland.edu
, and I will be happy to show you the valuable impact your investment will make for the SBA at Oakland University.
You can read specific examples of how the SBA's experiential learning programs fuel success in the Fall 2012 issue of SBA Insight, available on the
publications page
School of Business Administration website.
With a goal to raise $1 million, SBA Dean Mohan Tanniru has created a dollar-for-dollar match for the first $250,000 pledged or donated to the CIBRE fund between now and December 31, 2012. In other words, every dollar you donate to CIBRE between now and the end of the year will support our efforts to sustain excellence in business education at OU's SBA and it will be doubled.

Created by Julie Magro (jmmagro@oakland.edu) on Friday, November 2, 2012
Modified by Julie Magro (jmmagro@oakland.edu) on Friday, November 9, 2012
Article Start Date: Friday, November 2, 2012