By Eric Reikowski, media relations assistant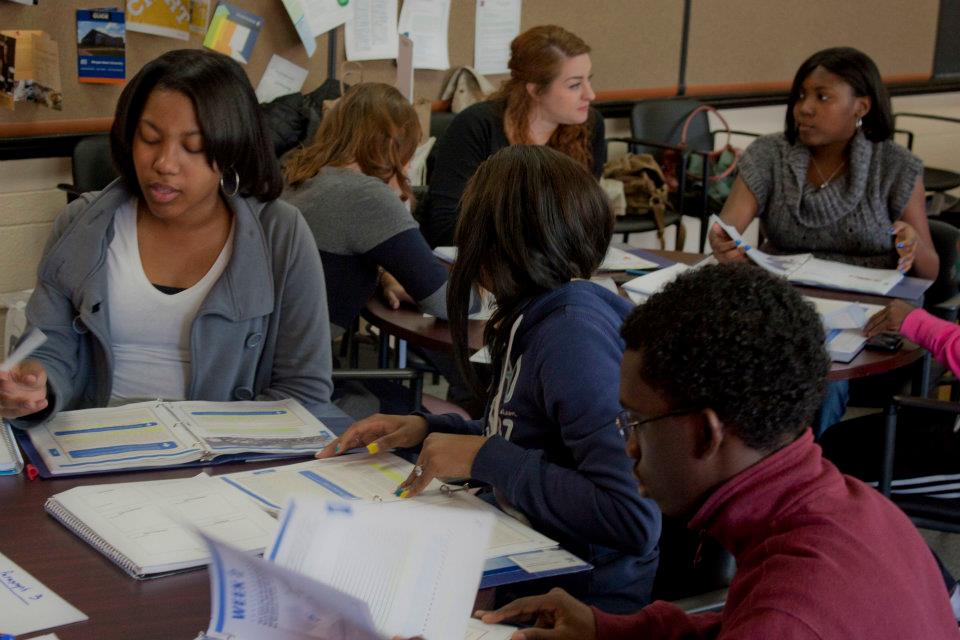 Excellence for Detroit prepares local students for college opportunities.
A group of Oakland University alumni are giving back to the community through a non-profit organization they created called Excellence for Detroit. Founded in 2011, the group works to address issues of college preparedness and retention by leading a 12-week program focused on academic skills, college knowledge and community engagement.

"We chose to focus our efforts on Detroit not only because of the need for our services in the city, but also because of the possibilities that a thriving Detroit offers to the region and the country," said Brandon Lee, founder and executive director of Excellence for Detroit. "All of the founding members had their individual reasons for joining the organization, but the unifying and fundamental reason is a belief in the potential of students in Detroit."

The program features seminar-style workshops on academic and professional writing, reading a text for argument, analyzing arguments and working with primary sources. The college knowledge portion helps students understand various aspects of the college experience, from the admissions process, financial aid and campus resources. To complete the program, students can select a 6-week service project that contributes to the Detroit community or take part in a 6-week ACT tutorial.

According to Lee, the program fosters a hand-on learning approach that emphasizes student initiative.

"Students drive the discussion," Lee explained. "Our instructors facilitate the discussion by helping students to ask the right questions. There is little to no lecturing in our sessions."

For the pilot program, Excellence for Detroit partnered with a Detroit-based nonprofit organization called Developing K.I.D.S. Participating students came from various high schools in Detroit and worked together to compile an oral history of Don Bosco Hall, where the program was held.
"Our students interviewed community members, community leaders and administrators of the center in an effort to learn more about the history and people that visit the center," said Lee. "We hope that the project will give back to the community while improving our students' college application portfolios."

Several past and present members of Excellence for Detroit have ties to Oakland's Department of History. Lee earned his B.A. in 2009 and is pursuing a master's degree at OU. Adam Hobart, assistant director of curriculum, graduated with a double major in history and English; and Jonathan Fouch, who serves in multiple leadership roles, earned degrees in history and German language. Others have contributed on a volunteer basis. Dr. Daniel Clark, associate professor of history, has mentored the group members and witnessed the development of the organization.

"Some of the early leaders have moved on to graduate school or jobs far away from Detroit," Dr. Clark said, "but Brandon and John have recruited new members to sustain the organization's momentum."

He continued, "They are deeply committed to making a positive difference in the lives of individuals who have the ability to do well in college but who might not realize what it will take to excel. I've been especially impressed with their ability to develop a challenging, engaging curriculum that includes primary sources and oral history. The History Department and OU are well represented by these talented graduates. "

Since wrapping up the pilot program this summer, Excellence for Detroit has started working with students at Denby High School and been contacted by community centers, non-profit organizations, schools and individuals. Lee said the organization hopes to have 50 to 60 students enrolled by the end of next year.

"We believe that students who enter our program and apply themselves will be positioned very well for success in college and in their professional lives," said Lee. "By addressing college preparedness in a comprehensive way, the program will help students make informed decisions about the college process and maximize the opportunities available to them."
A group of OU alumni are giving back to the community through a non-profit organization they created called Excellence for Detroit.

Created by Katherine Land - Deleted (land@oakland.edu) on Monday, October 22, 2012
Modified by Katherine Land - Deleted (land@oakland.edu) on Monday, October 22, 2012
Article Start Date: Monday, October 22, 2012