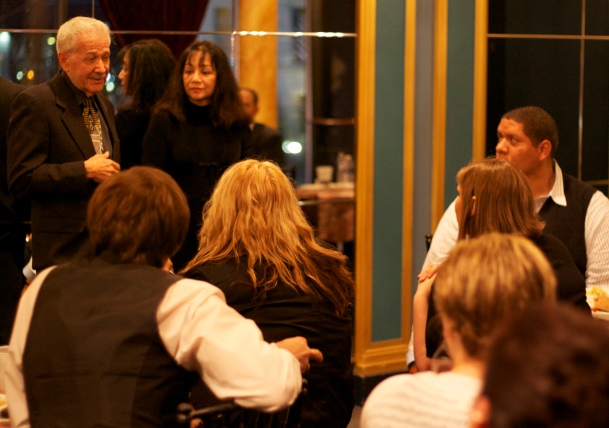 Assistant professor
Drake Dantzler
accompanied a group of 13 voice majors to the Detroit Opera House recently to see the
Barber of Seville
. They were there at the special invitation of the company and before the performance, they were given a tour of the backstage area and the costume shop, and even of the stage itself. They also ate dinner at the Opera House and
Dr. David DiChiera
, the general director of the Michigan Opera Theatre, who was formerly chair of the music department at OU, spoke with them and answered their questions. They also met with Maestra
Suzanne Mallare Acton
.
Cheyanne Coss
,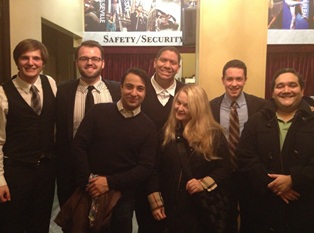 one of the voice majors who took the tour, was thrilled by the whole experience and amazed by the amount of space backstage and in the wings. Dr. DiChiera explained that he tried to plan two seasons ahead to ensure a good variety for the audience and thought about the availability of singers as he chose operas. Cheyanne said the performance itself was, "Really funny and super entertaining." Some of the students stayed behind after the opera to meet with the principal singers at the stage door. Dr. Dantzler hopes this will be the beginning of an ongoing relationship between our opera program and one of the Midwest's premier professional opera companies.
It's also important to us to continue our relationships with local music teachers, and we recently launched a new webpage designed as a resource for band and orchestra directors. Our instrumental faculty recorded the excerpts chosen for the MSBOA 2012 Michigan All-State Band and Orchestra auditions. Of course, music can be interpreted in many different ways and the examples are intended as a starting point for discussion between students and instructors.
David Uhrig
,director of bands at Marine City High School says, "This is a great idea! It's wonderful for my students to be able to hear a professional musician demonstrate a beautiful tone on their instrument. It gives the students something to shoot for."
Hear these recordings here
. Questions about the recordings may be emailed to our faculty.
Eventually some of the students who are successful at the All-State auditions may find themselves at the Michigan Youth Arts Festival, which is scheduled from May 9 – 11, 2013. Those who play in the festival orchestra will be lucky enough to work with Associate Professor
Gregory Cunningham
, who has been invited to conduct the honors orchestra this year. At OU, Greg teaches orchestral conducting at both the graduate and undergraduate levels, in addition to serving as music director of the Warren Symphony Orchestra and OU's orchestra-in-residence, the Oakland Symphony Orchestra. He is very much looking forward to working with the state's fine young musicians next spring and we know they will find the experience very inspiring. Read more about the
Michigan Youth Arts Festival here
.
We have news of two of our own fine musicians. Alums ('09)
Eric Olesksiak
and
Nick Adragna
, both of whom worked with Associate Professor
Kenneth Kroesche
who is our coordinator of brass, recently finished graduate degrees. Eric Olesksiak, who plays bass trombone, has completed a DMA from the University of Kansas, and Nick Adragna, who plays tuba, recently finished a master's degree at the University of New Mexico and has relocated to Minneapolis, where he plays with the Copper Street Brass Quintet. Read more about
Nick's ensemble here
.
Some of our alumni may have heard from the Strategic National Arts Alumni Project (SNAAP) which is conducting a survey seeking to understand how an arts education has shaped the experience of arts graduates and how they have have used what they have learned in their work and their life. Indiana University website is hosting the survey. Oakland University is one of
70 participating institutions
from all over the country. The survey is "in the field" now and your responses and ideas could help shape the future of arts education at Oakland and elsewhere. If you have received an invitation to participate, we encourage you to do so and to spread the word to your friends. If you have not yet heard from them but like to share your thoughts visit the
SNAAP website here
.
Finally, our performance season is well under way and among the highlights have been our professional guests. We hope you got to experience Armonia Celeste, Randy Napoleon, Joel Frederiksen, or the Eisenhower Dance Ensemble, all of whom were wonderful. It is our pleasure to offer you this amazing diversity of artistic entertainment. Still to come this semester we have
Matthew Kay
, cornet soloist, who will play with the OU Brass Band (November 11);
Ingrid Jensen
, who will play with the OU Jazz Band (November 15); and
Bernard Woma
who will play twice, once at Arts-After-Work (December 6) and again at the World Music Concert (December 7). You will find complete details about these concerts and all our other events in our season brochure, which is available as a PDF
on our home page.
If you still have to make your first visit to Varner, find a
campus map here
or just type Varner Recital Hall into your smart phone. And don't forget we have acres of free parking!
Photos: Top: Dr. David DiChiera and Maestra Suzanne Mallare Acton answer questions for OU voice students at the Detroit Opera House. Photo by Drake Dantzler.
Bottom: Front row, left to right:
Barber of Seville
principals Rodion Pogossov, Elizabeth Deshong and Rene Barbera. Back row: voice students Constantine Novotny, Jake Skipworth, Tim Brown and Mark Hosseini.