Thursday, October 18, 2012
OU student's original artwork on display in state senator's office
By Eric Reikowski, media relations assistant
While perhaps best known for his award-winning designs on the
Oakland Post student newspaper
, Oakland University senior Jason Willis recently gained attention outside campus when one of his artistic creations found its way to the state capitol.

Willis' work is being displayed in the Lansing office of State Senator Jim Marleau, who represents northern Oakland County, including the city of Rochester. The work presents a view of the evening skyline in downtown Detroit and is part of a Detroit-themed photo series that Willis has titled "Rebuilding a Broken City."

The series, Willis explained, is about the city of Detroit and "the idea that many pieces to a recovery may already exist, but it will take creative thinking to reassemble those pieces into something new."

"To create the collection," he added, "each photo was divided into sections and reassembled into a new composite to signify a new beginning. Each piece is still recognizable, but in a different form."

Sen. Marleau's office selected the work from a database of student artwork maintained by OU's Department of Art and Art History.

"We appreciate that Sen. Marleau has taken note of the strength of OU's art program," said Andrea Eis, associate professor of art. "The senator's choice of Jason's work is recognition of its quality and thoughtful, positive message. Jason's photographs are wonderful examples of how the meaning of art can be infused into its form, as they literally and figuratively 'rebuild' Detroit."

Along with the skyline photo, the eight-piece compilation features images of prominent Detroit landmarks, including Woodward Avenue, the Renaissance Center, Ambassador Bridge, Hart Plaza and the Spirit of Detroit statue. Willis began the project in 2009, as the region struggled in the throes of a widespread recession.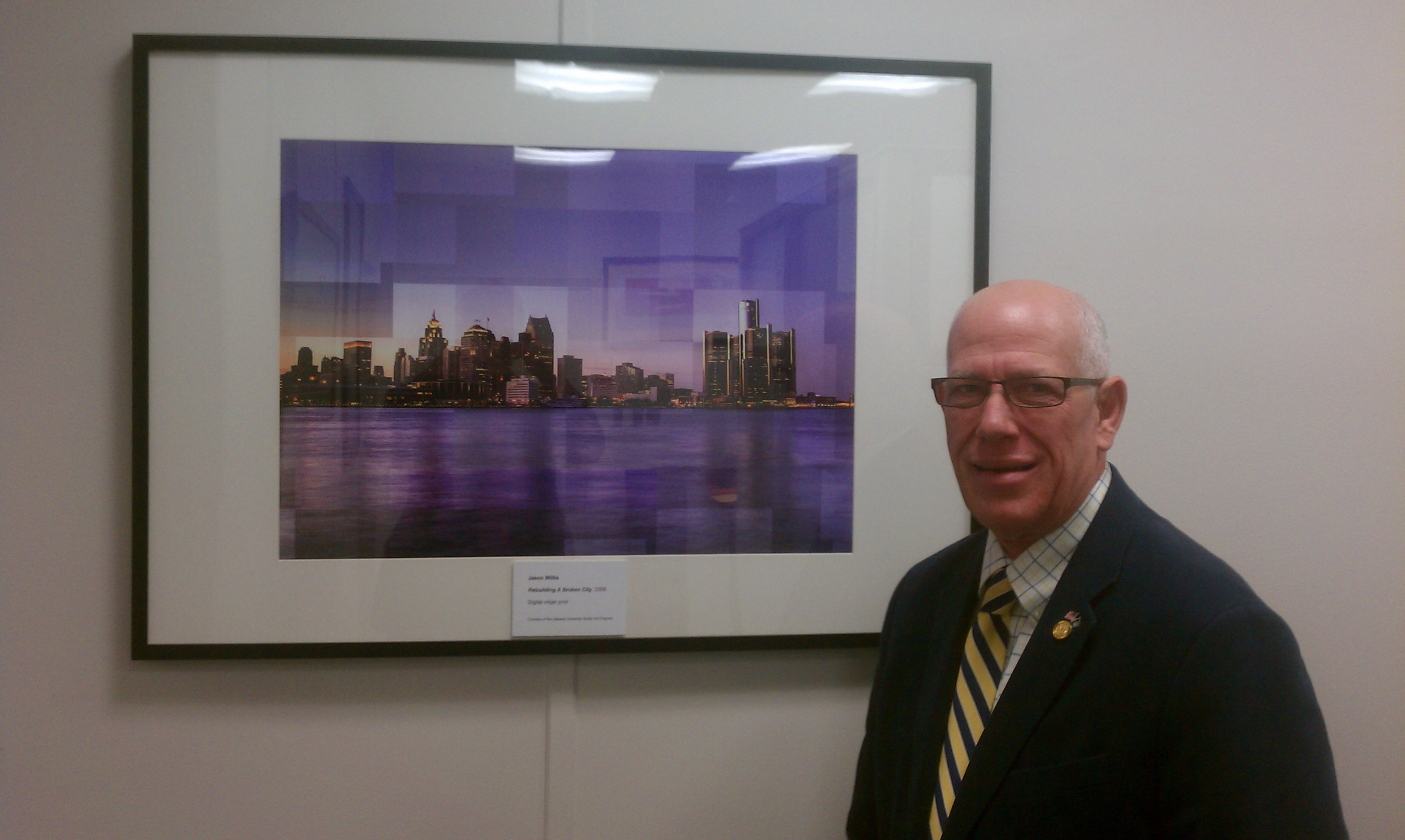 Sen. Marleau displays Willis' artwork in his office.
"With the economic downturn that has severely struck Detroit and our surrounding area, sometimes we can't help but focus on its broken state," Willis explained. "This photography-composite series of eight landmarks takes a vibrant walk through downtown Detroit in hopes of showing that all is not lost. The sum of those pieces all working in harmony has the ability to create change and generate opportunity."

In 2010, the series was showcased as part of the Grizz Art program and displayed in the Oakland Center. Now in his final semester, Willis is working on his senior thesis in Studio Art, a project that will integrate the skills he developed during his time at OU.

"My education at Oakland has greatly helped my critical thinking about how something is created and why," Willis said. "Professors here really push students to have a concept for projects, and I have realized the importance of that throughout school and now in work."
To view "Rebuilding a Broken City" and Willis' portfolio, visit
jasonmwillis.com
.
OU student Jason Willis' work is being displayed in the Lansing office of State Senator Jim Marleau, who represents northern Oakland County.

Created by Katherine Land - Deleted (land@oakland.edu) on Thursday, October 18, 2012
Modified by Katherine Land - Deleted (land@oakland.edu) on Thursday, October 18, 2012
Article Start Date: Thursday, October 18, 2012