A multi-disciplinary team of Oakland University scholars has been awarded a $612,000 grant to heighten suicide awareness and prevention efforts both on Oakland's campus and beyond.
The three-year Garret Lee Smith Suicide Prevention grant, awarded by the Substance Abuse and Mental Health Services Administration, has enabled the launch of the GRASP (Grizzlies Response: Awareness and Suicide Prevention) project.
This comprehensive, multi-faceted program will coordinate the awareness and prevention efforts of OU's Office of Academic Affairs, Office of Student Affairs, Department of Counseling, School of Health Sciences, Social Work Program and Department of Teacher Development and Educational Studies.
In addition, GRASP program leaders will reach out to human service agencies and organizations throughout Oakland and Macomb counties to begin building an integrated network of suicide prevention information, service and training providers.
"The goal is that after three years, a collaborative system of addressing this issue will become institutionalized. In fact, collaboration is a key component of the grant," said Lisa Hawley, associate professor of education, chair of OU's Department of Counseling and a lead investigator in the GRASP project.
"What makes it all a little easier on us is the fact that we've gotten wide support for the project from the get go."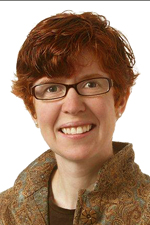 Hawley
As one of just 40 Garret Lee Smith grant recipients across the nation, the Oakland team draws from the knowledge, talents and dedication of a broad and diverse group of individuals and organizations.
Michael MacDonald, an associate professor of education who specializes in suicide awareness and prevention research, said GRASP will first focus on assessing the region's level of awareness and needs relative to suicide prevention.
Meanwhile, project leaders will also look to enhance the knowledge and skills of key mental health and human service professionals through educational programs, training workshops that are strategically tailored to meet needs identified through the community assessment, and distribution of informational materials by way of a virtual learning center.
"Really, it's a community psychology theme we're dealing with. How will this system work? How can we all work together, despite there being such a variety of participants involved?" MacDonald said. "We want to stress that suicide is everyone's business – not just the counselor's or the family member's or the friend's."
Joining Hawley and MacDonald in this ambitious project are Patricia Wren, associate professor of health sciences, and Dalton Connally, assistant professor of social work. Together, the team plans to train more than 20 percent of Oakland University faculty, staff and students in effective prevention, intervention and postvention approaches. Key stakeholders throughout Oakland and Macomb counties will be targeted as well.
"We look at this as an opportunity to make suicide prevention more conscious in our communities; more present in our everyday lives," MacDonald said.
To learn more about the Garret Lee Smith Suicide Prevention grant, visit the
SAMHSA site
. To learn more about Oakland University, visit
oakland.edu
.