Monday, September 17, 2012
New graphic design major prepares students for in-demand careers
By Katie Land, news editor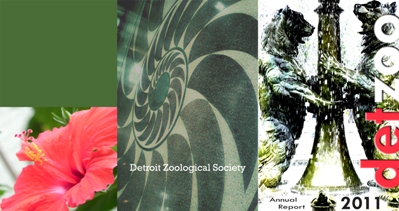 These images are the work of OU graphic design students.
In an increasingly visual and mass media-based world, graphic design has emerged as a prominent field. To accommodate this growing trend, Oakland University is set to launch the Bachelor of Arts in Graphic Design this fall.
"The study of graphic design is one of the fastest growing art majors at the university level today," said Lynn Galbreath Fausone, director of OU's graphic design program. "Earning a degree in graphic design allows the student to pursue a creative career in the arts through employment in a wide range of professions and industries."
Oakland's graphic design major is designed to impart the technical knowledge and critical thinking skills required in today's marketplace.
The program will focus on the connection between graphic design, fine art, and art history. OU's program will encourage individual exploration of the medium and technology, while placing an emphasis on creativity, liberal arts studies, historical awareness and written and oral communication skills.
This fall, the program will debut three new courses: Foundations of Graphic Design, Graphic Design II and Graphic Design III. A Motion Graphics course will follow in the winter semester. These courses will add to the current graphic design curriculum in place for the minor, which includes courses in design studio, materials and processes, art history, and design history and theory.
"The students are very excited about this new major," Galbreath Fausone said. "They have been producing great work even at the minor in graphic design level, and many have landed great jobs in the field. It will be very interesting to see the final portfolios of our first graduation class, which should tentatively be winter 2014."
Students will gain knowledge and skills in print-specific practices, web design, motion graphics for film and television, interactive applications, and branding and identity strategies.
There are currently several graphic design majors in the program, which includes students who have changed their major from studio art to graphic design, or have decided to double major in studio art and graphic design. New students can declare a pre-graphic design major, and will be accepted into the program following completion of Studio Art: 102 and 104.
For more information about Oakland's graphic design program,
view the website
, or contact the department at
design@oakland.edu
.
Graphic design has emerged as a growing and prominent field. To accommodate this trend, OU is set to launch the Bachelor of Arts in Graphic Design this fall.

Created by Katherine Land - Deleted (land@oakland.edu) on Friday, September 7, 2012
Modified by Katherine Land - Deleted (land@oakland.edu) on Monday, September 17, 2012
Article Start Date: Monday, September 17, 2012