By Samantha Skovran, media relations assistant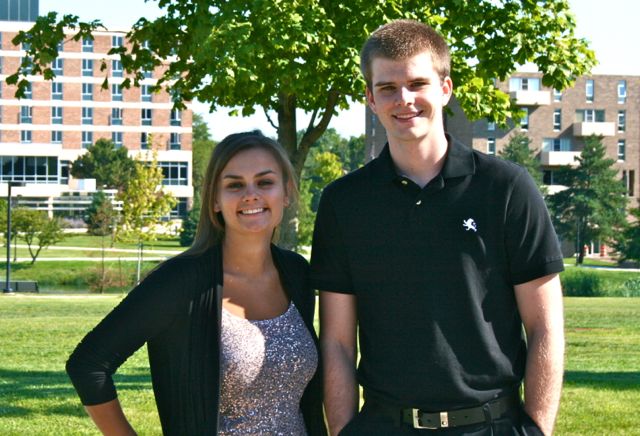 2012 OUSC President Samantha Wolf and Vice President Robbie Williford.
Samantha Wolf, 2012 Student Congress president, and Vice President Robbie Williford welcome students to a new year at Oakland University, and encourage members of the student body to speak up and get involved.

Officially elected last spring, Wolf and Williford plan to spend the year amplifying the voice of the student body, through resolving issues and establishing new ideas that will benefit OU students.
"Our door is always open," Wolf said. "We don't want students to be afraid to come see us in the student congress office, or stop us in the hallways to discuss an idea or issue."

"In addition to that, we want to create longevity," agreed Williford. "Five years from now, ten years from now, we want students to still benefit from our administration."

Wolfe is a junior, with a major in communications and a minor in applied leadership skills in international relations. Throughout her time at Oakland, she has been on the Meadowbrook Ball planning committee and a sorority member of Alpha Delta Pi, in addition to her help in Student Congress.

Through her dedication for campus events she met Williford, who read poetry in the Your Voice Heard Live and Rock for Rights events that Wolf helped plan. Since then, the duo combined their passion for Oakland in hopes to make a difference for the OU community.

Williford plans on spending two more years at Oakland to complete his English degree and his recently added minor in journalism. He currently writes for the Oakland Post and has held the title of president of the Resident Halls Association.

"Oakland was always my first choice, but when I finally got here I was somewhat shy. Being part of housing I was able to make connections and get that family feeling," Williford said of his OU expierience. "Academically, I have had the best professors; they are the ones who truly love what they are doing."

Wolf and Williford hope to help students create the best possible OU experience in their time as president and vice president.

"Our advice is to think about what you're passionate about, and find how to get involved with it," said Wolf. "If you're still not sure, stop in to the Center for Student Activities and the director Jean Ann Miller will help you find your perfect fit."

Williford added, "This is supposed to be the best four years of your life, it is your opportunity to find yourself, so don't be afraid to immerse yourself on campus and meet new people."
Students with ideas about campus, or who are concerned about campus issues can get connected to the Student Congress by e-mail at
ousc@oakland.edu
, on
the Facebook page
, or in person at the Student Congress office in the basement of the Oakland Center.

The OU Student Congress also plans to hold monthly fireside chats where students can come to ask questions or express concerns. Dates and times for these events will be posted in the OC prior to the event.

"Robbie and I are the bridge between the student body and the administration," said Wolf. "We want students to be heard."
For more information about Student Congress and the Wolf-Williford Administration visit
oakland.edu/ousc
.
Samantha Wolf, 2012 Student Congress president, and Vice President Robbie Williford encourage members of the student body to speak up and get involved.

Created by Katherine Land - Deleted (land@oakland.edu) on Friday, September 14, 2012
Modified by Katherine Land - Deleted (land@oakland.edu) on Friday, September 14, 2012
Article Start Date: Friday, September 14, 2012