By Eric Reikowski, media relations assistant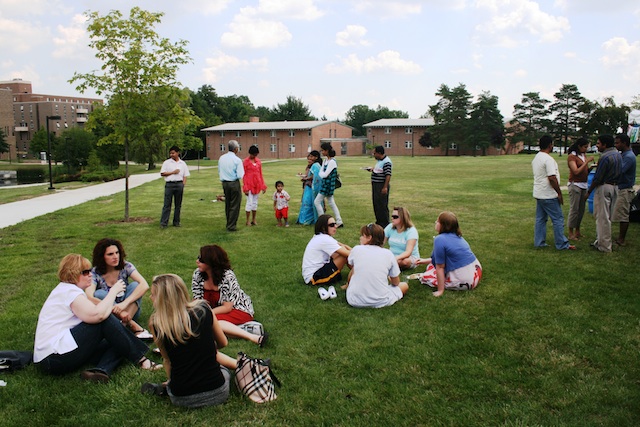 International students and families gather at an ISSO picnic.
Oakland University's International Students and Scholars Office (ISSO) is recruiting area families who are interested in becoming part of its Host Family program for the 2012-13 academic year. The program provides support to Oakland's international students by pairing them with families who help ease their transition to American culture.
Host families help international students become acclimated to new surroundings by introducing them to Oakland and the surrounding community. Students get to experience American life by participating in holidays, traditions, activities and events, while sharing their own customs and practices with their host family.
This exchange of culture has helped create memorable experiences for dozens of families and students who have participated in the Host Family program since it was launched in fall 2009.
Last year, 25 students participated in the program, which offers a rewarding experience for both students and families, according to Allison Radell, ISSO host family program coordinator.
"A host family experience has the ability to connect two different parts of the world and create an exchange that can last a lifetime," Radell said. "I remember being an exchange student in France and looking to my host family, especially in the first months, to help me navigate through this new foreign culture. I was very grateful for my host family and we still keep in contact two years later."
For more information on the Host Family Program, contact Radell at (248) 370-3358 or
aqradell@oakland.edu
. Those interested in joining the program are encouraged to submit the
host family enrollment form
by late August or early September.
An informational session will be held from 4-7 p.m. on Friday, Sept. 14, in the Oakland and Heritage rooms, located in the Oakland Center. All OU students, faculty and staff are welcome and refreshments will be provided. To learn more,
view the flyer
or visit the
ISSO website
.