By Samantha Skovran, media relations assistant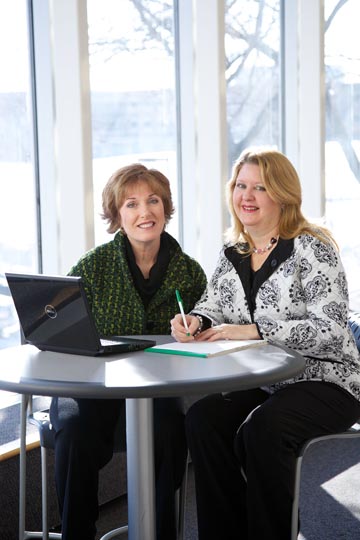 SON faculty members Cheryl Riley-Doucet (left) and Karen Dunn (right) will be inducted into the prestigious GSA this fall.
This fall, Oakland University School of Nursing faculty members Karen Dunn, Ph.D., and Cheryl Riley-Doucet, Ph.D., will be inducted as fellows in the prestigious Gerontologic Society of American Nursing (GSA).

The pair is honored for the longtime dedication to academics and research into the study of aging. Their induction is a recognition by their peers in the society, and acknowledges the outstanding contributions made by each to the field of gerontology. The GSA was founded in 1945 and is known as the preeminent organization for advancing the study of aging, promoting healthy aging, and publishing the longest running and most widely-cited peer reviewed articles in the field.
"It's humbling to have all your hard work be recognized," said Dr. Dunn. "What I have done might improve the health of older adults."
Dr. Riley- Doucet smiled, "I know I have done something important and left something useful for someone else."

Dr. Dunn has been an active GSA participant since 1998, and Dr. Riley-Doucet since 1999. Since that time, the two faculty members have continuously contributed to the advancement of GSA through research, teaching and service. Both women began at Oakland in 2001, where they have enhanced teaching practices, as well as helped to develop an Adult Gerontological Nurse program.

Dr. Dunn focuses her research on promoting wellness through surveying older adults who stay well in the community. She looks specifically at elements of spirituality, chronic pain management and end-of-life care.


"I always knew I wanted to work with older adults," said Dr. Dunn. "My grandma shared a room with me when I was a kid, and I loved to take care of her."
This interest in the older community continued throughout her education. Dr. Dunn's first job as a nursing assistant was in a nursing home where she developed her master's thesis on patient falls in nursing homes.

Unlike Dr. Dunn, Dr. Riley-Doucet did not always know that she wanted to focus her career on aging adults. She started her education in Canada where she earned her Master's in Nursing Education degree with a focus in mental health. When she began her Ph.D. at Wayne State, Dr. Riley-Doucet took her background in mental health and paired it with a growing interest in gerontology.

"Mostly my research focuses on interventions with dementia. I create a multisensory environment where all five senses become stimulated," she said. "I've had a lot of success with this treatment; it just seems to calm patients down."

Dr. Dunn added, "It also gives the family members the opportunity to interact and feel like they are making a difference."

Both Dr. Riley-Doucet and Dr. Dunn have excelled in research and have conducted poster, paper, and symposium presentations at the annual GSA conference nearly every year since they have become members of GSA.
Together, the pair have used their knowledge to provide services to the community for years. They have focused on Oakland County church groups in addition to groups like Faith in Action. These activities, combined with several individual service projects, research and teaching, demonstrate how both Dr. Dunn and Dr. Riley-Doucet are highly qualified for the fellowship.

"Ann Whall has been the reason we have gotten this far. She has been encouraging our development within the field," said Dr. Dunn and Dr. Riley-Doucet. "She is the endowed chair, as well as our mentor, and the individual that nominated us for a fellowship."

The induction ceremony will take place Thursday and Friday, Nov. 15-16, in San Diego, California.
This fall, OU School of Nursing faculty members Karen Dunn and Cheryl Riley-Doucet will be inducted as fellows in the prestigious Gerontologic Society of American Nursing.

Created by Katherine Land - Deleted (land@oakland.edu) on Wednesday, August 29, 2012
Modified by Katherine Land - Deleted (land@oakland.edu) on Wednesday, August 29, 2012
Article Start Date: Wednesday, August 29, 2012