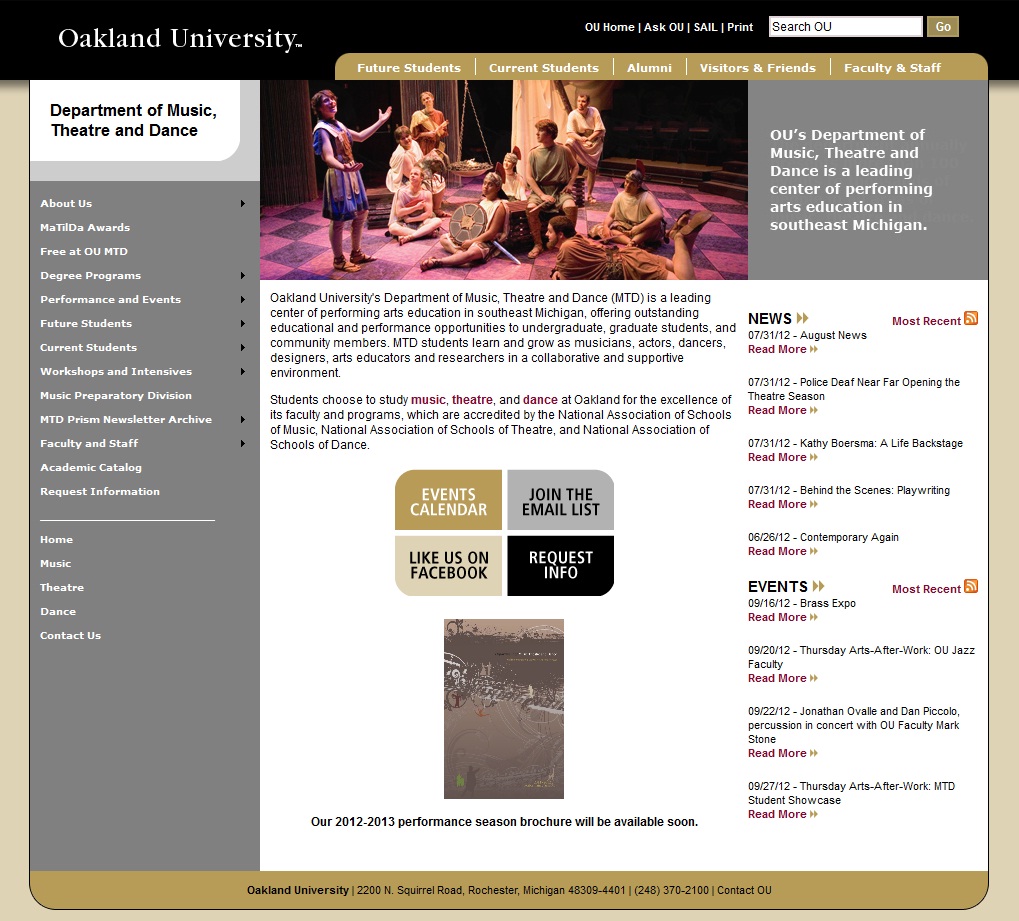 Once upon a time, back in the days when phones couldn't take photographs and no one had seen any kind of angry bird, except for the seagulls that didn't get your leftover sandwich scraps when you threw them to the wind at the seashore, the Music, Theatre and Dance office had pamphlets, forms and many other kinds of paper ephemera for you to fill in, file and ultimately lose.
Today, in line with university policy and practice, most of our information and "paperwork" has been uploaded to our website. This is an ongoing process. We are constantly updating the website with changes and improvements, and with a new freshman class about to join us, this seems the perfect time for MTD web 101.
In fact, we now have so much information online that for organizational purposes last year we launched four separate websites:
oakland.edu/mtd
;
oakland.edu/music
;
oakland.edu/theatre
; and
oakland.edu/dance
. General information is to be found on the mtd site and more specialized information on the dedicated program websites.
On the home page of the mtd site you will find buttons that, with just one click, will allow you to link to a PDF of the season brochure, see the online events calendar, join our email list that will sign you up for our monthly e-newsletter, Prism and all our other e-blasts, request information of any kind, or link you directly to our
Facebook page
. On the right-hand side of the home page we post a feed of our most recent news articles. To receive the articles in your email box as they are posted, click on the button to "join our email list." Underneath the news feed is another way to access our events calendar.
The links in the left-hand column are clearly marked and (we hope) user friendly. They will allow you to access detailed information about tickets, auditions, and much more. You can also download the forms you need under "Current Students" and track down the faculty member you are hunting through the "Faculty and Staff" link.
The dedicated Music, Theatre and Dance websites can be accessed by typing in the correct url or by hitting the links under the line in the left hand column on the mtd home page. They are custom tailored for majors in those programs. For example, the music site has information about ensembles and the Oakland Symphony Orchestra. It also has a dedicated graduate music page.
The theatre site lists the season's productions and the latest information about auditions. It also has a page dedicated to the senior showcase. The dance site has information about student dance ensembles and guest artists.
And we want to remind you that every OU webpage, including all the mtd pages, features a search box in the top right of the page. Anytime you can't find what you need, just go ahead and start searching the OU site.
Of course, if you need our help just call the Varner office at (248) 370-2030 and we will be glad to assist you. But you may save yourself some time by checking the website first. The website is a tool and it is for your convenience. If there is something you think should be there and you can't find it, please send us your suggestions. Just contact us at
mtd@oakland.edu
.
We look forward to hearing from you, although we suppose, in just this one case, if we don't hear from you, it means things are running smoothly!