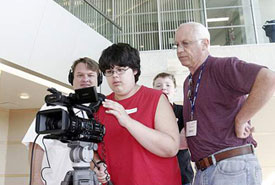 Michael Doppel directs a scene under the supervision of Joey Travolta, as a participant in the OUCARES film camp in August 2006.
When Michael Doppel first attended Oakland University's Center for Autism Research, Education and Support (OUCARES) Film Camp as a middle school student, he had no idea the impact it would have on his future.
The camp was created by Hollywood actor, director and writer Joey Travolta, and is one of only six camps nationwide. For two weeks each summer, it brings together 50 campers of ages 10-20 – a combination of individuals with Autism Spectrum Disorder (ASD) and their peers – to write, direct, and star in their own film.
At just 13 years old, Doppel, who has a high-functioning form of Asperger's syndrome, was able to work alongside the crew, using the film cameras and equipment. The very next year, he was selected to direct a segment.
Since then, Doppel has been hooked. Attending several more OUCARES film camps throughout high school fueled his interest in a career in film production, while he gained several lasting friendships with ASD students. Upon graduation, he had hoped to enter a film program at Emerson College in Boston. However, he was admitted to Grand Valley State University, where he earned good grades and held on to his first choice of universities and goal of working in film.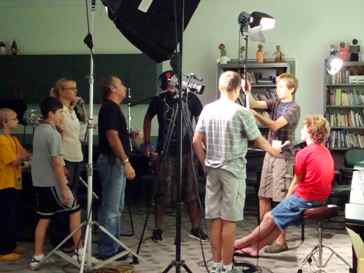 Students prepare to shoot a scene at the OUCARES Film Camp.
After a successful year away at school, Doppel was accepted as a transfer student in his dream program, and is about to embark on a major in film production at Emerson College this fall. His current goal is to direct films, but he also has plans to dabble in theater and write screenplays, stage plays and novels.
"The camp definitely confirmed my career goals," Doppel said. "It helped me prove that I could lead a group and that I loved film-making. I consider Joey Travolta one of my first mentors. Without him, I probably wouldn't be where I am today."
This summer marks the seventh consecutive year of the OUCARES Film Camp, which will run for two weeks, from Aug. 13-24. The unique program is focused on providing an inclusive setting for ASD students and supports an immersion in the creative arts.
"The film camp solidified Michael's interest in what he wanted to do," said Barb Doppel, Michael's mother. "The instructors really involve the kids in everything they do. Everyone is very loving and the counselors are skillful at managing different personalities and tempers. The students can try out any aspect of film that their interest is in, from writing and directing to acting."
The camp has had a tremendous impact on its participants, with many of Doppel's friends now pursuing degrees in higher education.
"I have much gratitude to Oakland University for getting all of this started," Travolta said. "Over the past seven years, I have watched kids grow through this great program. I am happy to be heading back to Detroit for this year's camp. As we say in show business, Oakland University is a first-class act."
The theme for the 2012 camp is "30 Minutes Tonight," a play on the popular programs "60 Minutes" and "Entertainment Tonight." Each group will create a short film focused on the topical news and entertainment popular today, and write creative scenarios for their own anchors and hosts.
The completed films will debut on Saturday, Oct. 27, at the Red Carpet Film Premiere night at the Oakland Center on Oakland University's campus. The event is open to the public and will showcase the film camp participants and celebrate their accomplishments.
The OUCARES Film Camp, led by Hollywood actor and director Joey Travolta, brings together individuals with ASD and their peers to write, direct, and star in their own film.

Created by Katherine Land - Deleted (land@oakland.edu) on Wednesday, August 8, 2012
Modified by Katherine Land - Deleted (land@oakland.edu) on Wednesday, August 8, 2012
Article Start Date: Wednesday, August 8, 2012