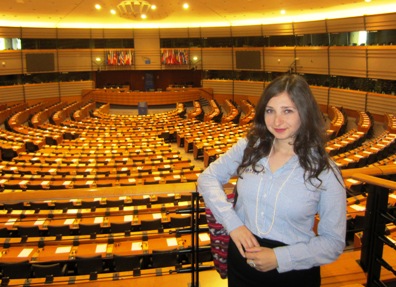 OU graduate Joana Allamani visits the European Union Parliament (above) and the EU Commission (below left) as part of a study tour.
Recent Oakland University graduate Joana Allamani took her studies abroad this June as part of UC Berkeley's Brussels Summer Study Tour. Allamani earned her position on the tour after her paper was selected as one of the top three presented at the European Union Center of California's conference this spring.
The whirlwind trip consisted of stops at the European Commission, the U.S. Mission to the EU, Council of the European Union, External Action Service, European Parliament, NATO headquarters, and Bruegel, which is a Brussels-based economic policy think tank. In each place, the student tour met with officials who gave talks regarding the role of their institutions, challenges that lie ahead, and current issues, including the Euro crisis.
The trip began as a one country trip, but ended up being a four country trip because, as Allamani said, "If I am going to be in Europe, why not take advantage of the proximity to so many different countries and cultures?"
The International Relations major extended her trip to travel to Albania, Italy, Belgium, and France.
"My experience on the Brussels summer tour was amazing," Allamani said. "Albeit short, this was a great experience that I think will be beneficial to my career and my interests. Being exposed to this, and meeting officials who work in Brussels and who shared information about the supranational institution that is the EU, shed some light on the direction I want to take post-graduation."
Born in Kruje, Albania, Allamani's award-winning paper focused on the political future of her native country, titled "The EU as a Democracy Promoter: Can the EU Use Albania's Ambitions for Membership to Strengthen Democracy in the Balkans?" Her paper was selected for publication from among 55 entrants, and earned her place on the six-day study tour.
Although the Balkan region has been home of wars, ethnic tension, and political instability in the recent past, all western Balkan countries have expressed interest in gaining membership in the European Union, explained Allamani.
"The Albanian question is particularly timely because of the regression of democratic conditions in the country following an 18 month-long political gridlock that ended in violent and deadly protests in January 2011," she continued. "This paper analyzes the "leverage and linkage" of the EU on Albanian domestic politics and whether the EU can offer sufficient incentives to facilitate democratic consolidation."
All told, 14 students and 13 educators from around the country participated in the summer tour, compiled by different EU Centers of Excellence from various universities. The experience broadened Allamani's perspective and offered a positive look into the future of international diplomacy.
"I was most excited about going to NATO just because, well...it's NATO! It was really surprising when the NATO Italian guard who was checking our passports said to me "faleminderit," which means 'thank you' in Albanian. I couldn't help but see that in relation to what I have learned in class about international relations and saw that attention as a good sign of its future."
Having completed her OU degree this spring, Allamani looks forward to new educational, professional and international ventures. She intends to keep her options open, and is interested in finding an international relations job in Washington, D.C., but also plans to complete a master's degree and apply for an internship at Bruegel at some point in the near future.
For more information about programs and events in OU's International Relations program,
view the website
.
OU graduate Joana Allamani made her mark on the European Union abroad this June as part of UC Berkeley's Brussels Summer Study Tour.

Created by Katherine Land - Deleted (land@oakland.edu) on Wednesday, July 25, 2012
Modified by Katherine Land - Deleted (land@oakland.edu) on Wednesday, July 25, 2012
Article Start Date: Wednesday, July 25, 2012