Tuesday, July 17, 2012
OU student leads community rally, aims to "Stop the Violence"
By Eric Reikowski, media relations assistant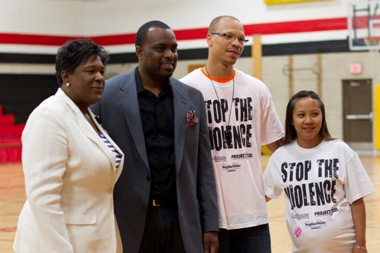 OU senior Peter Durham (second from right) stands with participants at the "Stop the Violence" rally that he helped organize.
Oakland University senior Peter Durham recently helped organize a youth-inspired anti-violence initiative in the city of Pontiac. More than 350 area middle school students attended the "Stop the Violence" rally with the goal of reducing teen violence during the summer. The event was sponsored by Lighthouse of Oakland County, an organization that Durham serves as a member of the Community Development Board.
"I have always been passionate about helping the youth of Pontiac, whether by coaching or creating avenues to give young people opportunities to speak out," Durham explained.
The "Stop the Violence" rally was driven by students in the Youth City Council, a group Durham formed with students in a local after-school program called Project Excel. Leading up to the rally, Durham said the students created a list of the most important issues they will face in the coming year and settled on violence as their top concern.
"In my opinion, violence has become an outlet for frustrated teens," Durham added. "There aren't enough programs to give teens a positive outlet, so they turn to physical violence to express their emotional deficit."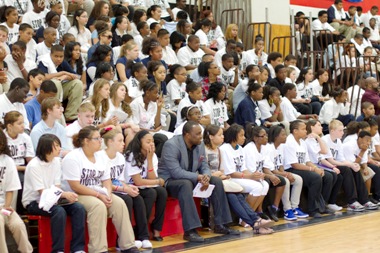 More than 350 middle school students in the Pontiac area attended the rally focused on reducing teen violence over the summer.
The rally was keynoted by teen life strategist Jessie Cole Jr., author of several books, including the recently released, "Walk Like a King: The Young Man's Guide to Conquering the World." In addition, students received "Stop the Violence" T-shirts and wristbands through a $2,000 grant Durham secured through Neighbor Works of America.
The integrative studies major credits his Oakland experience with helping prepare him for lifelong community engagement.
"The culture at OU has helped me develop as a leader," said Durham, citing university events such as the annual Keeper of the Dream celebration. "My Communication 302 course with Prof. Beth Talbert was definitely one of the influential classes that helped me embrace a strong leadership role."
Durham has used his leadership experience to help other Oakland students get involved, recommending numerous volunteer opportunities available through Lighthouse of Oakland County and Habitat for Humanity, an organization he has worked with on projects such as painting bird houses with elementary school children.
"Peter's enthusiasm and leadership have helped students connect with meaningful service learning projects that put classroom lessons into action and give back to the community at the same time," said Julie Borkin, Integrative Studies program coordinator. "It's a win-win for everyone involved."
OU senior Peter Durham recently helped organize a youth-inspired anti-violence initiative in the city of Pontiac, aimed at reducing teen violence over the summer months.

Created by Katherine Land - Deleted (land@oakland.edu) on Tuesday, July 17, 2012
Modified by Katherine Land - Deleted (land@oakland.edu) on Tuesday, July 17, 2012
Article Start Date: Tuesday, July 17, 2012