By Samantha Skovran, media relations assistant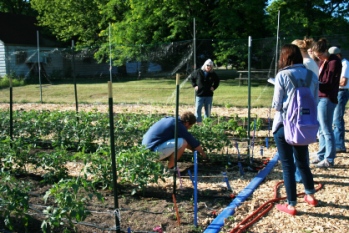 Farm Manager Jared Hanna teaches the class on a farm walk.
For the second year, Oakland University's Organic Farming summer courses are in full bloom, thanks to a hardworking group made up of students, farm assistants, a farm manager, and biology professor Fay Hansen.
The two courses, Organic Farming in an Urban Setting and Permaculture: Theory and Practice give Oakland students a self-study learning opportunity that examines sustainability and the relationship between organic farming and the modern world.
To run a successful farm requires special care everyday. Since the class only meets two day a week, it is up to Dr. Hansen and her team to weed, water and protect the crops.
The Oakland Summer Student Campus Corps initiative placed farm assistants Billy Puuri and Danielle Bockart with second year Farm Manager Jared Hanna to fill the needs of the farm, along with the summer 2012 students.
"People get disconnected from their food sources, so when I took this class last year it gave me the chance to learn and get reconnected," said Bockart. "Now I'm back and I'm able to put so much time and effort into this, it sort of feels like our baby."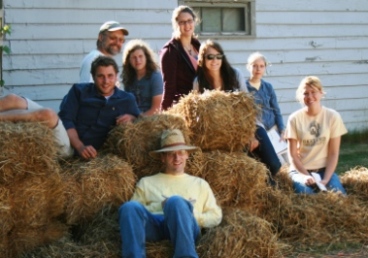 The organic farming class takes a break on the farm.
Students are not only able to learn from these courses, but are also able to combine their learning with service in local communities. Students go to the Baldwin Center's "hoop house" to help children learn how to garden and take care of their produce. Other Oakland students also work with young adults from the Kennedy School in Pontiac at the OU farm.
"This service sets the stage for students to become more involved in the community while learning the curriculum," said Dr. Hansen.
Wellness and Health Promotion major Lauren Fadie is using this class to learn more about nutrition values in organic farms, which is something she hopes will be useful in her future. "I want to join Food Corps where I can follow my dream of teaching kids about nutrition through gardening," she said.
Still, the farm courses are not just for students interested in sustainability, nutrition or farming. Dr. Hansen stresses that these courses provide an intersection between numerous degrees. Several major concentrations such as business, marketing, and communications could all benefit from the hands-on training that an organic farm has to offer.
"Everybody eats right?" laughed Hansen. "Other than that simple fact, a farm is a business. Students not only grow the food, but they also sell it, so they need to promote their items and set up a successful plan to benefit the business."
Oakland masters student, Dan Kosuth, is using this summer's course to pursue his interest in the politics of urban farming. "Since my degree is working from a political standpoint, I'm interested in the political ramifications of zoning in urban agriculture," said Kosuth.
Whether an individual enters the class for personal interests, academics, or service opportunities, all students are welcome.
The crops are growing as fast as the students' ambitions as they map out how to sell their produce at local farmers markets, and make plans to assemble a farmers market on campus this fall. Plans are also in the works to expand the farm's fences as students work on new beds throughout the summer.
Those interested in the benefits of organic farming can learn about upcoming events and volunteer opportunities by joining the Organic Farmers at OU Facebook page. For more information about OU's Organic Farm and Summer 2013 classes contact Dr. Hansen at
hansensm@oakland.edu
.
OU's Organic Farm is in full bloom, thanks to courses, programs, and a hardworking group of students, volunteers and farm assistants.

Created by Katherine Land - Deleted (land@oakland.edu) on Thursday, July 12, 2012
Modified by Katherine Land - Deleted (land@oakland.edu) on Thursday, July 12, 2012
Article Start Date: Thursday, July 12, 2012