Tuesday, July 10, 2012
OU joins state efforts to promote wellness and healthy living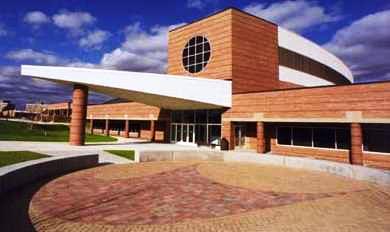 Membership to OU's Recreation Center is free to staff and students. This initiative helps participants to maintain a healthy lifestyle.
As American obesity statistics continue to climb, it is more important than ever to maintain a healthy lifestyle. This idea is taking hold across the state with the Michigan Health and Wellness 4 x 4 Plan, released by Governor Rick Snyder this June.
The plan outlines the dangers of obesity and makes a call to action to local governments, businesses, schools, community organizations and individuals. Oakland University is already on the path, offering a wide variety of programs and initiatives to help students, faculty and staff live healthy lives.
"Oakland University has always been committed to making sure our students, faculty and staff have easy access to resources necessary to live a healthy lifestyle," said Oakland President Gary Russi.
"We have a responsibility as an institution to offer the healthiest environment we can to the entire campus community, and to offer options to those who are committed to living a healthy lifestyle."
Obesity is the root cause of most chronic illnesses and contributes to rising healthcare costs. Currently, 32 percent of adults and 17 percent of youth are obese, with a body mass index (BMI) greater than 30.
The Michigan 4 x 4 plan touts the practice of four healthy behaviors and four health measures. The four healthy behaviors are to maintain a healthy diet, engage in regular exercise, get an annual physical exam, and avoid all tobacco use. The four measures are to control BMI, blood pressure, cholesterol level, and blood sugar/glucose level.
Oakland University is committed to improving wellness in the community in all its forms, including physical, emotional, spiritual, social, intellectual, occupational, and environmental well-being.
"OU has been engaged in health and wellness initiatives for some time now," said Greg Jordan, director of Campus Recreation. "As a university, we offer education for Michigan residents and work to offer healthy programs. Being healthy makes people lead more productive and happier lives."
The university offers many wellness initiatives and resources including:
A comprehensive Building a Better You wellness site designed to direct the university community to a wide variety of programs and options at oakland.edu/betteryou.
Beginning in 2012, Oakland made membership to the Recreation Center free for staff benefits. Since that time, there has been a 172 percent increase in employee Rec Center members. Jordan has also tracked a 70 percent increase in the number of people using the center and the frequency of use.
Registered members of the rec center can also take free equipment orientations and the Exercise 101 and Strength Training 101 courses.
OU supports Michigan wellness priorities by offering a wide variety of programs and initiatives to help students, faculty and staff live healthy lives.

Created by Katherine Land - Deleted (land@oakland.edu) on Tuesday, July 10, 2012
Modified by Katherine Land - Deleted (land@oakland.edu) on Tuesday, July 10, 2012
Article Start Date: Tuesday, July 10, 2012