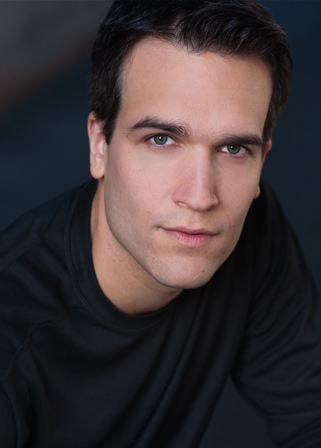 David Havasi
enjoys a successful career as a New York-based actor. As he would be the first to admit, it is not an easy career to pursue, but all the same he says, "It's ridiculously fulfilling." The highlight so far was an eighteen-month long national tour of
Spamalot
, the musical based on the movie
Monty Python and the Holy Grail
. He understudied several large roles and played them many times. He recalls, "The gut busting laughter from the audience was wonderful to hear."
It seemed to David that getting cast in
Spamalot
was a "cosmic pay off." He had gone into the audition feeling like he already had most of the pages memorized, because he had spent so much time exchanging dialogue from the cult movie with his friends in the Vandenberg dorm back when he was an OU student and a theatre major.
Born and raised in Rochester, where his parents still live, David was in middle school and playing football when he was persuaded by a friend to take a dance class to help develop his agility. He was very reluctant, feeling it was "not the cool thing to do," but the once-a-week, all-male hip hop class at Deborah's Stage Door dance studio had him immediately hooked. By high school, he was still playing football, but he was also taking ballet class, spending 25 hours a week in the competitive dance program at Deborah's Stage Door, supplementing that with a gymnastics class, singing in five choirs, and appearing in high school theatre productions. It seems an impossible schedule but David did it, and he still managed to graduate.
In the fall of 1996, he enrolled at OU and stayed for two years. David was always serious about having a professional career in the theatre, and in 1998 he made the move to New York where he has lived ever since. He enrolled at Marymount Manhattan College and it was there that he finished his acting degree. "It was a strategic decision," he says. "But I feel like most of the things that I use today came out of the mouths of [retired OU theatre professor]
Michael Gillespi
e and [OU theatre professor]
Karen Sheridan
. "In everything I do in show business I hear their words in my ear as instruction and guidance."
Fearing that might sound "cheesy," David insists it really is the truth. And he is not afraid of the truth. A lot of people congratulate him on making it in a tough business and his resume shows he has. He got his first paying gig just a few months out of college, playing one of the trio of ballplayers who sing "Gotta Have Heart" in
Damn Yankees
, in a production in Vero Beach, Florida. Since then he has made movies, appeared in television soaps and New York theatrical productions, as well as in regional theatre like his most recent performance, as the lead in Meadow Brook Theatre's season closer
Xanadu
. It was this job that saw him resume temporary residence in his parents' home and gave him the chance to reconnect with old friends.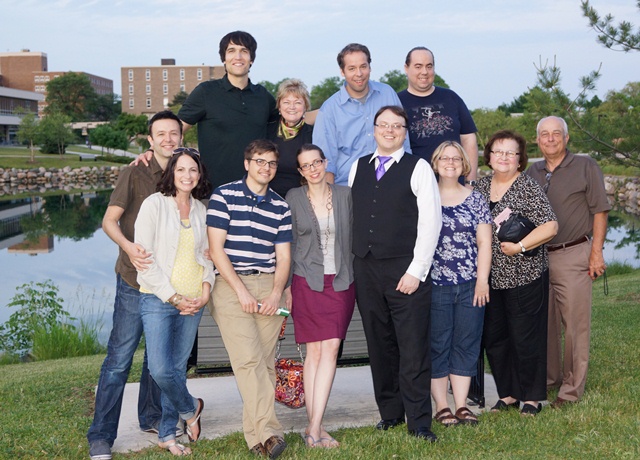 But David doesn't mind admitting that between gigs, he usually goes to three auditions a week for which he may practice a new dialect or learn two songs, only to be seen by a production intern who may not even take a break from texting before dismissing him. Like most actors, David's life is full of rejection. But he remains convinced that one day "someone will use me in something really cool again."
David knows that his next big project could be just around the corner, the result of any of these thousands of auditions. "People quit too soon," he says. "It doesn't come easy. The reason I relentlessly persist is because in my heart I believe I have something to offer."
Everyone at OU who knows David also believes that. In the best show business tradition, we hope one day soon we will be able to tell everyone that we knew him before he was an overnight sensation.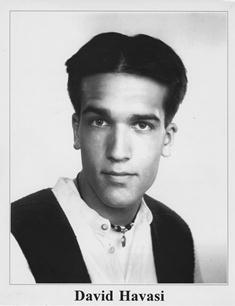 To read more about David,
visit his website
: www.davidhavasi.com
Follow
David on Twitter:
@daveydo2000
Photos:
Top: David Havasi, photo by Jason Watson.
Middle: David meets up with old friends on the OU campus. Standing on the bench from left to right: David; Cheryl Marshall, General Manager of Meadow Brook Theatre; Michael Murphy, B.A. '01, former roommate; Pat Murphy. Ground level from left to right: Jason Bryce B.S. '00, former roommate; Melanie Bryce, OU alum; Tony Bottrell B.S. '00, former roommate; Alyssa Bottrell, B.S. '03: Travis Walter, B.A. in Theatre Performance '02, former roommate and Artistic Director of Meadow Brook Theatre; Cheri Murphy; Lillian Havasi, David's mother; Frank Havasi Jr., David's father.
Bottom: David Havasi when he first came to OU.