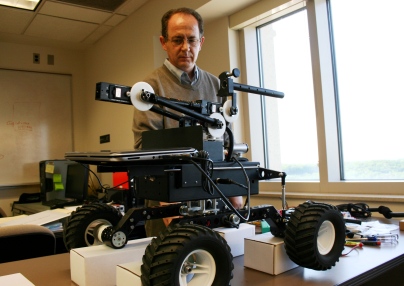 Fulbright scholar Dr. Pajaziti has worked with OU engineers to develop a mobile autonomous robot used to uncover hidden land mines.
This summer, Oakland University's Department of Electrical and Computer Science has joined forces with Fulbright Scholar Dr. Arbnor Pajaziti to design and manufacture a mobile autonomous robot that has the potential to save lives.
More than a decade has passed, but the effects of war are still lingering in Kosovo, where portions of the countryside are dangerously littered with hidden land mines. These mines pose a hazard to the lives of citizens, especially the farmers, growers and shepherds who work in pastures and fields.
De-mining teams are also at risk and must use a variety of methods to uncover and remove the mines. Current mine detecting machines are too costly to be used effectively, running up to $300,000 each. Dr. Pajaziti and the OU team are working to develop a new landmine detecting robot that will offer a low cost and high performance alternative.
"This has been a great experience for me at Oakland University," Dr. Pajaziti said. "The university has allowed me the opportunity and the resources to work on ideas under excellent scientific conditions. I have had great pleasure working here and being able to explore both theory and practical experiments."
Dr. Pajaziti's trip to Oakland was made possible by the Fulbright Scholar program, and has run from March through the end of June. In that time, the team has achieved roughly 80 percent of their goals, and is currently working to fine-tune the machine.
The study addresses the navigation technique for a sonar-equipped autonomous mobile robot, in which the local map is built in real-time for local path planning. The control system of the mobile autonomous robot is designed to negotiate harsh environments on the minefield with high precision.
A professor at the School of Mechanical Engineering at the University of Prishtina, Kosovo, Dr. Pajaziti is the author of two scientific books and has given several lectures on de-mining techniques, including at Harvard University in 2009.
He conducts research in many areas of the robotics field, including the application of several control schemes, neural network controllers, fuzzy logic controllers, genetic algorithms to industrial robots, mobile robots, legged robots, multiple robotics systems and humanitarian clearance of anti-personnel mines.
The study at Oakland has provided the resources and opportunity needed to turn some of Dr. Pajaziti's ideas into reality.
"I think Dr. Pajaziti has been impressed by the problem-solving ability of OU engineers," said Dr. Ka C Cheok, professor of engineering in Oakland's School of Engineering and Computer Science. "We are from Detroit and we can get it done. There are great resources and expertise in the university and in the surrounding area."
The project came together when a former student of Dr. Pajaziti's began to study at Oakland. Impressed by the quality of research opportunities and robotics work at OU, the student introduced the two engineers. Both Dr. Pajaziti and Dr. Cheok hope to continue to work together in the future.
For more information about programs and events in Oakland's SECS,
view the website
.
This summer, OU's SECS has joined forces with Fulbright Scholar Dr. Arbnor Pajaziti to design and manufacture a mobile autonomous robot to detect land mines.

Created by Katherine Land - Deleted (land@oakland.edu) on Wednesday, June 20, 2012
Modified by Katherine Land - Deleted (land@oakland.edu) on Wednesday, June 20, 2012
Article Start Date: Wednesday, June 20, 2012