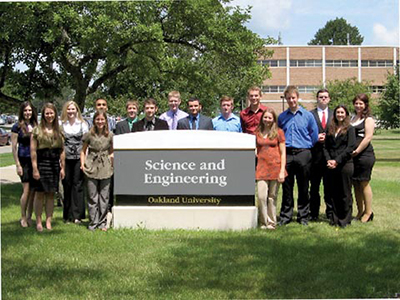 Lisa Flynn, CAS '89, is certain she would not be a physician today without the support she received years ago from Oakland University.
"I was the first person in my family to go to college, and I went because Oakland University gave me a scholarship," she says.

After graduating from Oakland with a degree in biochemistry and earning a medical degree from Wayne State University, Flynn worked at the Detroit Medical Center and St. John Hospital, and served two tours of duty using her skills as a vascular and trauma surgeon to save lives in Iraq.

She also has been devoted to finding ways to say thank you to her first alma mater. She does so by serving as a board member of the Oakland University Alumni Association and as an ambas-sador for the College of Arts and Sciences (CAS).

Most recently, she created the Lisa M. Flynn Endowed Fund for Chemistry, which is now fully funded at $25,000 and ready to award its first scholarship.



"I'm very excited," Flynn says. "I'm going to be able to go to breakfast with the recipient."




In other recent acts of support, Flynn arranged to make a planned gift to the university, and she has pledged to contribute an additional $25,000 to the endowment fund. "That way it will keep getting bigger and help more students."



The scholarships from Flynn's fund will help cover stipends for biochemistry and chemistry students who are participating in summer research projects. Students spend three months working full time in a lab alongside a faculty mentor.



"The research projects provide an extremely valuable opportunity for students to determine whether research — in medical school or full time — is a good fit for them," Art Bull, chemistry department chair, says. "These are frequently life-changing experiences."

These projects differ sharply from classroom experiments, where the outcome can be anticipated. They are forging ahead in untried territory. "It's the students' first chance to see something unstructured," Bull says. "That's a big intellectual leap."

Flynn worked on research projects with Kathleen Moore, CAS associate dean and chemistry professor, during her undergraduate training. Recently, Flynn was invited to serve with Moore on the CAS Pre-Medical Council at OU. The council provides oversight and facilitates the student experience in the pre-medical concentration.



Pictured above left: Lisa Flynn, above right: Soon, the Lisa M. Flynn Endowed Fund for Chemistry will provide undergraduate research awards for students, like the ones pictured here, who participated in the program in the summer 2011.