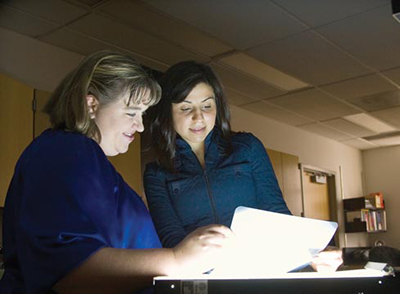 Michael Kenny, CAS '78, set high standards for himself during his years at Oakland University — and he consistently met them. Now the prominent trial attorney is creating opportunities for a new generation of students to excel.
Kenny and his wife, Elizabeth, have donated $100,000 to create the Michael P. and Elizabeth A. Kenny Merit Scholarship for the Sciences. The couple also gave the university $5,000 to allow OU to make an initial award this year.

"Beth and I wanted to help the university continue to attract and retain top students in fields of study where the university has a stellar reputation, which serves, in part, as the engine of its continuing growth," Kenny says.

This scholarship will target students who demonstrate financial need and academic merit.
Recipients will be required to have a grade point average of 3.8 or higher if they apply at the high school level. OU students and transfers will need a GPA of at least 3.7 to qualify.
Achievement and high academic standards are very important to us," Kenny explains. "Smart and ambitious students often are already hardwired to perform, but, like most human beings, they also respond to incentives. Set the bar high, and help top students realize their potential."
Kenny, who triple majored in philosophy, history and political science at OU, says his education here laid a solid foundation for lifelong learning while stressing the importance of critical thinking, persuasive writing and the rewards of a heightened curiosity.
But while Kenny highly values his experiences studying the humanities at OU, he and his wife feel the best way to help the university is to target science students with their scholarship, which is for undergraduates majoring in biology, chemistry or physics.