by Gillian Ellis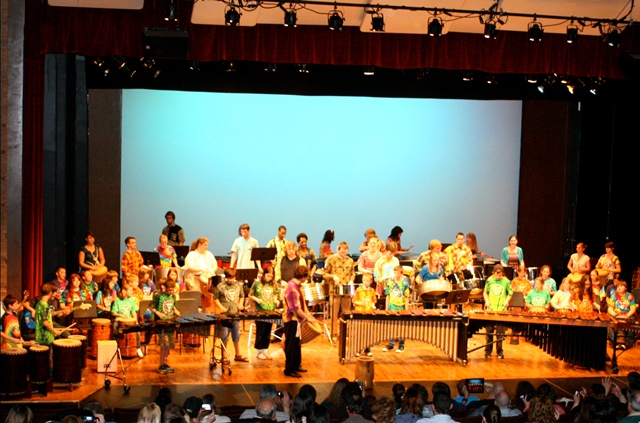 "I'm a very percussive person," says Michael Medvinsky, (B.Mus. '05) and indeed, conversation with the 2012 Oakland County Elementary School Teacher of the Year proceeds at a brisk and steady rhythm, as he expounds on life as a music teacher. "I want to lay the groundwork for loving and understanding music," he says. "They can take that into life with them."
"They" are students in the elementary, intermediary and alternative high schools of the Brandon School District. Mike also teaches marching band and African drums after school. He's a busy guy. And a successful one, as his recent honor attests. On May 10, Mike enjoyed a recognition dinner surrounded by family and supported by his principals, along with other district and county teachers of the year, but he was most moved by a video of his students explaining why they thought he deserved the award. It brought tears to his eyes, he said, to hear how clearly his students understood classroom policies he implemented but had never explicitly stated. The lesson to be learned here is that Mike is in tune with his students!
And despite the fact he claims to connect with things through sounds rather than words, he tells a compelling life story with great clarity. Mike was born into a Jewish family in Russia when it was under communist rule. His parents, feeling compelled for safety's sake to celebrate religious holidays clandestinely, regularly applied for visas to leave the country, and finally, when Mike was 4, they were given permission. They moved first to Austria and then to Italy, where they applied for a visa to enter the U.S.
Mike arrived in Michigan with his parents and grandmother in 1980, when he was 4 years old. None of them could speak any English, which left his mother and father, both of whom had master's degrees, much lower down the career ladder than they were accustomed to. Mike attended preschool in Southfield. He recalls asking the other children to play with him in Russian and remembers the bemused expression on their faces and his own tears of frustration. "But by elementary school," he says, "I was all set."
His is a musical family. His parents had met as members of a wedding band in which his mother sang and his father played guitar. The percussive Mike recalls as some of his earliest memories sitting on the kitchen floor surrounding himself with upturned pots and pans to make his own drum set. "And there was always a guitar around," he says. "My father taught me three chords and then I could play some Beatles songs." In high school he was in band, choir and jazz band, and he played in a garage band. But he says he never enjoyed music class. "I never felt engaged by that experience."
By his own account Mike graduated high school "barely" and after two years at Lawrence Tech, he embarked on a successful career in auto design engineering, working at a computer all week and coming alive at the weekends, touring with his band Metaphysical Jones and others. When he met his future wife Elizabeth, she was a junior in the voice program at OU and as she grew to understand the real Michael, she encouraged him to look inside and ask himself what he really wanted to do with his life.
After some months of introspection, Mike knew that music was what he wanted to do. But it was a tough decision to throw away a well-paid job and start again with a whole new round of student loans, looking towards an uncertain future at a teaching job that would pay less than he was currently making. It was especially hard to explain his thinking to his parents, but once they understood they supported him fully.
When he began his undergraduate work at OU Mike felt like he had a lot of ground to make up, especially in music theory, and he worked very hard. He was not the first person to discover, "It's much easier to work hard at something you love than something you don't," but his "stats" make a perfect illustration. Mike confesses to graduating high school with a GPA of 1.9. He finished his bachelor's degree with a 3.8 and knocked it out of the park with a perfect 4.0 for the course work of his master's degree. "Look what happens when you find something you love," he says.
Mike loves music, but in the classroom what truly interests him is "how kids learn." He doesn't teach kids "the song on page 18." His students compose music, they arrange music, they sing in ensembles, they play African drums. And he works hard and makes connections to provide his students with real music experiences they might not get anywhere else.
He is always ready to advocate for the arts in school because he says it is not really about the content. The learning experience should transcend the content. "I tell my colleagues, 'We all teach life. You may teach life through words or numbers but I choose to teach life through sound.' It all connects up for the child."
Nevertheless he was delighted with his teacher of the year award and not just for the personal honor, but because it "put a music teacher in the spotlight." Mike sees this as "a step forward for the arts in education" and that makes us all winners, especially the young people in our schools.
Photo: Mike's African drum students join OU students at a recent OU event. Photo by Michael Medvinsky.