It should be quiet in Varner Hall in May and June. Relatively speaking, it is, but there is still no end of news to share with you, so here it is.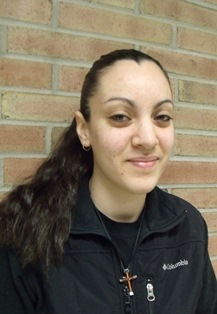 Occasionally we have a student who, for one reason or another, transfers from our program to another school. This is not something we usually find newsworthy! But at the end of the winter semester, one of our music students moved across the country with plans to enroll at San Diego State. She remains inspired by a love of music, but is also motivated by a sense of duty not often encountered.
Monica Yousif,
who has just completed her junior year studying harp with
Kerstin Allvin
and trumpet with
Gordon Simmons
, feels the call to a religious life. She will become a nun in the convent of the Workers of the Vineyard in San Diego, which is affiliated with the Chaldean Catholic Church. Monica reports that the order is small and new; the oldest resident is only twenty-five. Nevertheless, the order is traditional in character. The nuns wear a long olive green habit, and until she takes her first vows six months after she enters the convent, Monica is required to wear modest clothing. She is not, however, retreating from the world. After she completes her degree, Monica plans to teach music in a school affiliated with the convent. She also hopes to fulfill a mission which she knows will be a lifetime of work. The hymns and the traditional liturgy of the Chaldean church are very ancient and in Aramaic, the language Jesus spoke. They have been passed down through oral tradition for centuries and Monica believes their musical components have never been accurately written down. She plans to work on this transcription, and if she succeeds, she will leave behind her a true legacy. You can read more about her order
at their website
.
Once you have checked out that site, we urge you to do something that could not be more different. Please make a note on your calendar to watch the Tony Awards. You can see the broadcast on June 10 at 8 p.m. on CBS. And plan to cheer for second-time nominee
Jayne Houdyshell,
who is an OU alum from the days when theatre training was offered in the form of the Academy of Dramatic Art (ADA), on the English model. Jayne graduated from ADA in 1974 and spent a season at Meadow Brook Theatre before forging a very full career and honing her craft in regional theatre, only later settling in New York. For more details of her life read this earlier
OU news article
. Jayne is nominated as a featured actress in a musical for her role in
Follies,
which stars Bernadette Peters. According to
Tom Suda
, special instructor in acting and a friend of Jayne's, the show will wrap a Los Angeles run the night before the Tonys and Jayne will jet back into New York just in time to prepare for the red carpet and what we hope will be her acceptance speech. For full details about this year's Tony Awards, including pictures of Jayne, please visit the
official Tony website
. And if you care to, you can read a
New York Times
appreciation of Jayne's work here
.
We have an award winner much closer to home. Department chair
Jackie Wiggins
has been chosen as a Regional Arts and Culture Award Winner. She is one of eight individuals being honored for their work in fostering arts and culture in their local communities. As we all know, Professor Wiggins' work in music education has had impact well beyond our local area. She is a scholar of international renown. Nevertheless, we are delighted that her leadership in promoting cultural education and performance right in our own backyard of Rochester Hills has also been recognized. Paint Creek Center for the Arts (PCCA), a nonprofit regional art center, will host the Regional Arts and Culture Awards at the Royal Park Hotel, in Rochester, Michigan on Thursday, June 7 at 6 p.m. If you would like to support Jackie as she is feted along with other winners, visit the
PCCA website for tickets
and information or call (248) 651-4110. Tickets are $50.
We have someone else for you to cheer for. Associate Professor
Kenneth Kroesche
sent news that his student
James Long
, who is a sophomore pursuing a double major in music education and performance, has been selected as one of only six semi-finalists in the Euphonium Student Division of the Leonard Falcone International Euphonium and Tuba Festival, which will take place August 10 to 13 at Blue Lake Fine Arts Camp in Twin Lakes, Michigan. Ken writes, "It really is considered to be the most important and well-established international event of its kind." For more information about the competition
check their website
.
As always, we want to keep you up to date on what our faculty and staff are doing. Composer
Terry Herald
, who teaches audio technique and film music, is working on a commission, working title "On Greenstone Island," for the 40th-anniversary gala concert of the Warren Symphony. Terry says the piece is inspired by a hiking trip he took around Isle Royale. "It's like a movie soundtrack but only I have seen the movie." The concert is on Sunday, November 11. Conductors for the concert will be
Gregory Cunningham
and
David Daniels
, the former a current MTD faculty member and the latter a professor emeritus. Find more details about this concert on the
Warren Symphony's website
.
Kristen Hudson
, a recently hired College of Arts and Sciences secretary, spends some of her time hiking around the campus, as she subs in various offices. You may have seen her in Varner 207 recently. She has made a big impression on us all both personally and professionally. And obviously we are not the only ones. We were delighted to see Kristen starring in a recent issue of "UHR Connections," the e-newsletter for Human Resources. She was featured in a story about online training.
You can read the article about Kristen (and find out more about online training!) here
.
And two of our theatre faculty are busy this summer, one on stage and one directing. Assistant Professor
Anthony Guest
will appear with the Flint Youth Theatre as Captain Hook in a version of
Peter Pan,
which the company is promoting as a reintroduction to "the complex original story." They promise it will be filled with "adventure, intrigue and jealousy," perfect for everyone ages 8 and up. Performances are from July 13 to 22 and tickets are $12 to $18 from the
company's ticketing agency
or (810) 237-1530.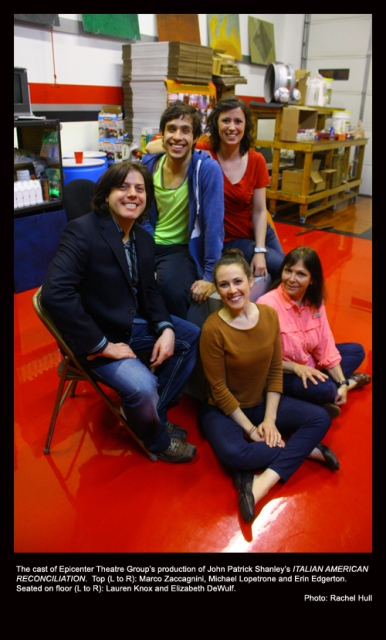 Professor
Karen Sheridan
is directing the latest Epicenter Theatre production, which opens on May 31 in Varner Studio Theatre. Epicenter Theatre Group was started in 2011 by a core group of Oakland University alumni and produced two shows in their first year. The company's voice is clever, fun and edgy and so, when they asked Karen to direct their next production, she chose
Italian American Reconciliation
by award-winning playwright John Patrick Shanley, who also wrote
Doubt
and
Moonstruck
. Karen says, "As a playwright, Shanley takes our common human yearnings and butts them up against what seem to be impenetrable odds. He dresses our dreams in poetic, deep and true language and surprising humor. Big feelings and profound crossroads are part of Shanley's landscape." The cast includes alums
Marco Zaccagnini
(B.A. '07) (also Epicenter's managing director),
Erin Edgerton
(B.F.A. '10)and new graduate
Lauren Knox
(B.F.A.'12). The show runs until June 10. For tickets and information visit
the group's website
.
Another former OU student,
David Havasi,
is appearing in Meadow Brook Theatre's current production,
Xanadu
. Look for a feature about David's life in theatre in an issue of
Prism
later this summer. Meanwhile, he was featured recently in the
Oakland Press
and you can read that
article here
. For more information about
Xanadu
and to purchase tickets visit the
Meadow Brook Theatre site
.
And finally, Associate Professor
Fred Love
heard recently from musical theatre alum
Diane Dehn
(B.A.'10) who is based in Orlando. She is loving her life and "having so much fun." She sent him a link about her most recent appearance with the Orlando Repertory Company Theatre in
The Boxcar Children,
which
you can read here
. She also reported that she had auditioned with the Orlando Shakespeare Festival that day. Did you get a call back Diane? We are waiting to hear.
We are also waiting to hear YOUR news. Email
gellis@oakland.edu
to share your recent exploits with your Music, Theatre and Dance community.
Photo: Top: Monica Yousif, photo by Gillian Ellis
Photo: Right: The cast of
Italian American Reconciliation
, photo by Rachel Hull