Thursday, May 3, 2012
Two English faculty members earn Teaching Excellence awards
By Eric Reikowski, media relations assistant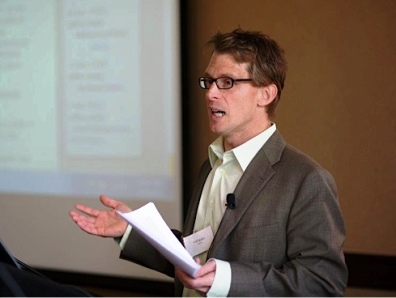 Jeffrey Insko earned OU's 2012 Teaching Excellence Award.
Two faculty members in the Department of English are this year's recipients of Oakland University's highest accolades for teaching. Associate professor Jeffrey Insko was honored with the Teaching Excellence Award, which is given to full-time, tenure-track faculty. Doris Plantus, a special lecturer in the department, has been recognized with the Excellence in Teaching Award, an honor reserved for non-tenure track and part-time instructors.
The awards were chosen by the Oakland University Senate Teaching and Learning Committee based on nominations by OU students, faculty and staff, letters of recommendation and materials submitted by the nominees.
Dr. Insko arrived at OU in 2003 and teaches courses at the undergraduate and graduate level. He is a student mentor who has sponsored numerous Meeting of the Minds papers, Honors College projects and master's theses.
"For me, this award means a much-deserved recognition for the English department, which truly fosters a culture of teaching excellence," Dr. Insko said. "It's a department full of great teachers and I'm proud to be counted among them."
He continued, "The thing I enjoy most about teaching is without question the intellectual heat generated by a classroom full of students thinking. I love OU students and talking with them about literature, history and ideas is for me a source of real joy."
Joining the OU community in 2009, Dr. Plantus has taught a variety of courses in literature, screenwriting and film. Her background in music, dance and linguistic and cultural awareness lends an interdisciplinary approach to all her teaching, whether in general education, in the Honors College, in seminars or online. She also created an online version of a Bible as Literature course, which has found wide popularity among students.
"It is especially exciting to see my marvelous colleague Doris Plantus honored during the same year. I hear from students all the time just how wonderful she is as an educator," Insko added.
The pair was recognized during a faculty luncheon held in early April. For more information on the programs in Oakland's Department of English, view the website at
oakland.edu/english
.
Associate professor Jeffrey Insko and special lecturer Doris Plantus are this year's recipients of Oakland University's highest accolades for teaching.

Created by Katherine Land - Deleted (land@oakland.edu) on Thursday, May 3, 2012
Modified by Katherine Land - Deleted (land@oakland.edu) on Thursday, May 3, 2012
Article Start Date: Thursday, May 3, 2012