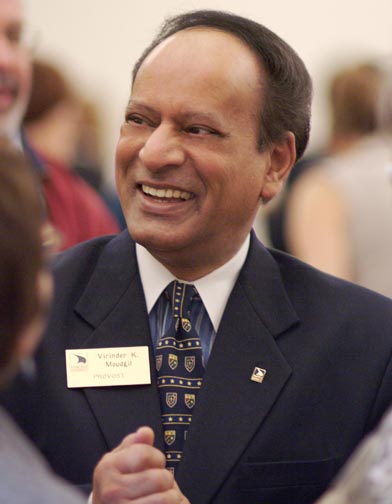 Dr. Virinder Moudgil will be leaving Oakland University after 36 years to become the president of Lawrence Technological University in Southfield.

After 36 years of outstanding service to Oakland University, Senior Vice President for Academic Affairs and Provost Virinder K. Moudgil will be leaving OU to accept the position of president at Lawrence Technological University in Southfield effective July 1, 2012.
"One simply cannot overstate the meaningful impact the provost has had during his three and a half decades of service to Oakland – nearly a third of which has been in the role of our chief academic officer," President Gary Russi wrote in a message to the campus community.
"This is clearly wonderful news, but it also is a bittersweet moment for Oakland University. We will soon be bidding farewell to an individual who is without a doubt among the most influential and most respected faculty members and administrators in the institution's history."
The LTU Board of Trustees approved Moudgil's appointment during a meeting on Friday. As a result, the veteran scholar and administrator will step down from both his administrative and faculty positions at Oakland.
"There is much to be said about Dr. Virinder Moudgil. After working with him for 16 years, I am of the opinion that his legacy will live for generations to come. He is a beacon of professionalism, intellectualism and an expert in interpersonal relationships. I cannot overstate his devotion and loyalty to Oakland University. For almost four decades, he has been an integral part of this institution," said Board of Trustees Chair Henry Baskin.
"Working with President Russi, he established significant and lasting programmatic initiatives. His vision provided the members of our campus family with support, leadership and forethought," the board chair added.
"He is one of the few who has taken this school from its regional origins toward an era of unparalleled national recognition. He has added dimension and new meaning to the word 'provost.' As the senior academic administrator, he was genius, historic and extremely well respected by his colleagues. He deserves all the good fortune and leadership, which will be his at Lawrence Technical University."
Dr. Moudgil also demonstrated immense passion and unfaltering dedication on an individual level during his tenure. While serving as an administrator, for example, he maintained a breast cancer research lab that recruited both graduate and undergraduate student research assistants. Dr. Moudgil will personally see to it that students working in his lab can complete research they began under his supervision.
Asked during a 2011 Oakland Press interview how he is able to manage 14- to 16-hour workdays in both the office and the lab, he replied, "You know, if you feel what you're doing is meaningful, that's energy … When I come in the lab, I feel good. When I go to the office, I feel good."
Moudgil started as provost with a focus on enhancing the already exceptional quality of Oakland's academic programs, support services and cultural environment. He also sought to expand funding support for faculty research, advance the role of undergraduate students in research and scholarship, and enhance OU's interaction in both the academic and broader communities.
Moudgil's contributions over three and a half decades are virtually limitless and impossible to list comprehensively here. As just an overview of the advancement of academic and support services under his leadership:
OU's academic offerings have increased from 114 undergraduate and 82 graduate programs in 2003 to 133 undergraduate and 128 graduate programs now.
Oakland has seized the opportunity to expand and enhance academic programs in three schools as result of the construction of two major academic facilities – Pawley Hall and the Human Health Building.
In collaboration with its clinical partner, Oakland founded and won initial accreditation for the Oakland University William Beaumont School of Medicine, which the Association of American Medical Colleges has cited as an example of a new standard of excellence in medical education.
Oakland introduced online learning that has grown to include 186 courses and nearly 20 programs.
Oakland established the Department of Professional Development and Continuing Education (PACE).
Oakland established concurrent enrollment programs with Macomb Community College, Oakland Community College, St. Clair County Community College and Mott Community College
Oakland has grown the roll of its full-time faculty by more than 22 percent over the last 10 years
With regards to research at Oakland, Moudgil has:
Helped oversee the development of major research partnerships including William Beaumont Health Systems, Cooley Law School, St. John Hospital, DMC, Crittenton Hospital, Comerica, DaimlerChrysler, Ford Motor Company, General Motors and the US Army-TACOM, TARDEC;
Overseen the development of numerous research centers, including the Institute for Stem Cell and Regenerative Medicine, Pediatric Retinal Research Laboratory, Prevention Research Center, Center for Integrated Business Research and Education, Automotive Tribology Center, and Fastening and Joining Research Institute;
Dedicated roughly $9 million in support of faculty research and programs, academic programs, laboratories improvements and student research over the last 3 years alone;
Helped orchestrate a 50 percent increase in annual externally funded research grants and contracts over the last 9 years, to roughly $18 million/year;
Sponsored the Summer Undergraduate Program in Eye Research;
Launched the Provost Undergraduate and Graduate Research Scholar Programs to provide opportunities for a distinctive research experience to all students.
In term of cultural enhancement, he:
Supported the establishment of the Oakland Symphony Orchestra;
Played the central role in inviting and welcoming former president of India Abdul Kalam to speak on campus;
Has strongly endorsed the hosting of international conferences at OU.
Perhaps the most significant impact Moudgil has had during his time at Oakland, however, has been the education, inspiration and remarkable mentorship he's offered countless individual students, faculty and staff.
Amelita Sanchez, a longtime research assistant and a doctoral candidate at Oakland, said, "He's the type of teacher everyone should have."
All in the campus community wishing to share thoughts on Dr. Moudgil's contributions to the quality of academics at Oakland are encouraged to submit them electronically using the
online form
created for this purpose. Submitted reflections will be used for a commemorative web page, university news coverage and other honorary purposes.
Senior Vice President for Academic Affairs and Provost Virinder K. Moudgil will be leaving OU to serve as president of Lawrence Technological University.

Created by David Groves (groves@oakland.edu) on Monday, April 30, 2012
Modified by Katherine Land - Deleted (land@oakland.edu) on Wednesday, May 2, 2012
Article Start Date: Monday, April 30, 2012