We are simply an extraordinary community with so much to celebrate and we have such a diversity of wonderful news to share with you this month.
Associate Professor
George Stoffan,
who teaches clarinet, has received a Fulbright Award to travel to the Czech Republic this fall. For more details please read the article "A Seventh Innings Stretch for the Mind."
Ron Sudol
, dean of the College of Arts and Sciences, writes, "I congratulate George on being awarded a Fulbright scholarship, one of the most prestigious awards in the academic world. Oakland University ̶ and more specifically our students and faculty in music ̶ will benefit greatly when he returns from this intercultural experience in the Czech Republic ready to share fresh perspectives on making music."
We were also delighted to learn this month that alumnus
Michael Medvinsky
, (B.M. '05), who was named Brandon School District Teacher of the Year last month, has now been named 2012 Oakland County Outstanding Elementary School Teacher of the Year. Mike was surprised with the news in his classroom at Oakwood Elementary by district administrators, much to his students' delight. He will be honored along with high school and middle school teachers of the year at an event on May 10. Mike is the first music teacher to receive this honor in Oakland County; look out for an article about his life in music in the June issue of
Prism
.
Two of our faculty were honored at the 17th Annual Faculty Recognition Luncheon, which is part of Founders' Day.
Kerro Knox 3
, associate professor of theatre and theatre program director, was honored for his service and
Mark Stone
, special instructor and program coordinator of world music and world percussion, was honored for his scholarship.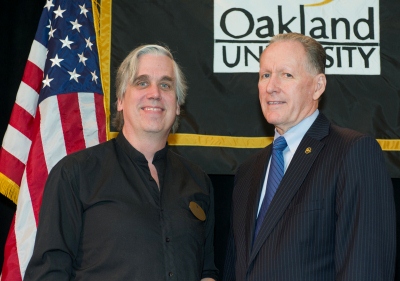 The event program notes that Kerro has "Metaphorically speaking, become a part of the very concrete that holds together Varner Hall. He is literally a part of everything that goes on within Music, Theatre and Dance in some capacity."
Noting Mark's creative work, the program highlights his commission from the Albany Symphony to compose a concerto, entitled
Gyil Yeru Concerto
, for the African Xylophone trio, and which he will perform as part of the Philadelphia Orchestra's 2012–2013 season. "His participation in this concert gives Oakland University a prominent place on the world stage."
Mark also received a second award this semester, from the International Students and Scholars Office. The citation reads: "For his many accomplishments and his commitment to using his discipline to bring greater understanding and acceptance of world cultures to our students and campus community, we honor Professor Stone with the 2012 International Service Award." And the award program notes that since Mark's arrival on campus in 1998, "He has single-handedly built OU's World Music program into the large, reputable, influential program we have today." After detailing the specifics of his many contributions, the program notes, "Mark's work is widely known and respected and his distinct contribution to the OU community is invaluable." We couldn't agree more.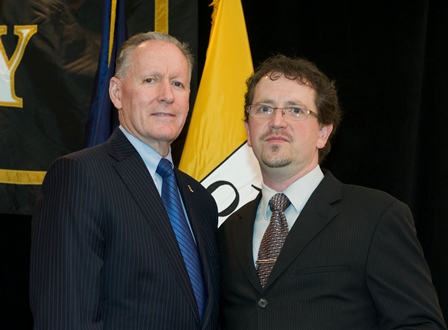 Our students have also demonstrated the quality of our performing arts program beyond the campus and won awards. The Oakland University Brass Band recently gave an outstanding performance at the North American Brass Band Championships in Cincinnati and placed fifth out of eight in a section comprised almost exclusively of more experienced adult bands from across the country. They were the only university ensemble. In addition to this achievement, the band was named the winner in the 10-Piece Brass Band Competition. Associate Professor
Ken Kroseche
, director of the brass band, reported that, "Every student who competed in the solo and ensemble competition . . . represented themselves and the university at a standard we can all be proud of. [It was an] outstanding performance."
A performance of a far different kind was the final leg of the academic marathon that saw
Miroslav Pavle Manovski
complete the requirements of his Ph.D. in Music Education when he defended his dissertation on April 23. His title, "Finding My Voice: [Re]Living, [Re]Learning, and [Re]Searching As a Singer in a Culture of Marginalization" proved intriguing to many and the occasion was well-attended and received.
We have also to pass along some of the achievements our alums have reported back to us. Special Lecturer in Theatre
Leslie Littell
forwarded news to us of alums
Leah Darany
(B.F.A. 2009) and
Audra Lord
(B.A. 1993). Their plays are being performed at Hamtramck's Planet Ant Theatre, as reported in a recent issue of
Encore
.
And we're happy to pass along news from
Nancy Vitale
who was very active in the OU theatre program, although she graduated with a B.A. in English in 2001. Nancy later earned an M.F.A. from Columbia University and now sends word that she has started her own theatre company in New York. She writes, "
Noor Theatre
is dedicated to supporting, developing and presenting the work of theatre artists of Middle Eastern descent. We hope that the work we create will help shift misperceptions about folks of Middle Eastern heritage and demonstrate the commonalities we have -- while edifying and entertaining the heck out of our audiences at the same time.
"Our first production,
Food and Fadwa
, by Lameece Issaq and Jacob Kader, begins in May at
New York Theatre Workshop
, where we are a Company in Residence." Follow the links to read more. Nancy would love to hear from any OU friends who will be in NY during the run. She will gladly arrange discount tickets! Her theatre company also hopes to arrange a regional tour so contact her through the MTD office if you have ideas you want to share with her.
Several of our alums and recent graduates have been cast in the Detroit Actor's Theatre Company's production of
Legally Blonde, The Musical
, including
Ashley Rozanski
playing the iconic Elle Woods. For details of how to see Ashley dressed all in pink, along with
Ryan Dawley,
Danielle DeWulf
and
Kryssy Becker
(BFA '11) starting May 3,
follow this link
.
Melissa Hoag
, assistant professor of music, sent news that her student
Jane Hines
presented a paper titled "Innovation in Song: Brahms's 'Der Abend,' op. 64, no. 2" at the prestigious National Conference of Undergraduate Research in Ogden, Utah, on March 29. Jane's paper, which came out of a fall 2011 independent study with Melissa, examines an accompanied vocal quartet by Johannes Brahms that sets the poem "Der Abend," by Friedrich Schiller. While the 19th-century art song is known for being a highly idiomatic genre, Hines's research highlights innovative compositional elements that exist below the surface level of the music, resulting in a more profound, musical representation of the text that may have otherwise been overlooked. Jane reports that, "NCUR was one of the best experiences of my undergraduate, leaving me with a renewed sense of purpose towards my academic goals. Under my mentor's guidance, I learned how to prepare for a conference and deliver a successful presentation. At the conference, I was able to meet other students who share similar passions and forge lifelong connections."
Read more about Jane's work here
.
At the recent MaTilDa awards
Megan Trewhella
was recognized for her Distinguished Musicianship and her abilities were also recognized when she was offered a graduate assistantship to MSU to study music theory, not to mention scholarship offers from four other schools.
We expect to read more by, and perhaps about, Jane and Megan in the future, but recently we read a moving recollection of an alumna from quite a few years back. Professor Emeritus
David Daniels
brought to our attention an appreciation of the work of
Judy Adams
(B.A. in Music, 1972) by Grammy-winning singer-songwriter Joe Adams that recently ran in the
Detroit Free Press
. It is worth your time, not just because of Judy's OU connection, but because it speaks to the power of music.
Read it here
.
Judy's long-running show on WDET must have touched many people and what a legacy that is, but legacies come in many forms, and we must thank two of our professors emeriti, not just for the many years of work they have devoted to OU, but for recent financial commitments they have made to assist our performing arts students with their professional development.
Recently retired theatre professor
Michael Gillespie
has created The Michael Gillespie Oakland University Endowment for Theatre Student Travel and Enrichment, which will provide funding for theatre students to travel nationally and internationally or can be used to support special enrichment projects as approved by the theatre program. Michael comments, "As a young man I was blessed to spend a year as a student in France and two years as a Peace Corps Volunteer in the Ivory Coast. Two summers ago, I had the pleasure of teaching on a voyage of Semester at Sea in the Mediterranean. I know firsthand how powerfully travel educates minds and hearts. I have been moved and inspired by the thrilling stories and shining eyes of OU Music and Theatre students returning from educational trips supported by the Stanley Hollingsworth and Brad Glass scholarship funds that so richly benefit our young artists and scholars. I am deeply satisfied to know that my modest contribution will continue to offer numbers of future students the gift of new horizons."
And former department chair
David Daniels
has made a donation to open a new fund that will mirror the spirit of the now depleted Stanley Hollingsworth Fund, which in the past has supported the overseas studies of many music students. The new Stanley Hollingsworth Legacy Gift Fund has been created with matching funds from the president's office and welcomes donations from others who would like to support study abroad opportunities for music students.
Finally, even though the semester is over we have news for you of two performances. If you are in the local area, we invite you to St. John Fisher Chapel at 3665 Walton Rd. on Saturday, May 19th at 1:30 pm for a
Student Harp Ensemble Recital.
Kerstin Allvin's students, some of them from Music Prep, 10 in all, will perform and Kerstin promises some of the "the most beautiful music on earth." Admission is free and everyone is welcome.
If you are in the New York area, please try to make it to one of the concerts given by our chorale. Along with their director, Mike Mitchell, the students are touring the city early in May. Catch their concerts: Thursday, May 3 at 1 pm,
St Paul's Chapel
at Church and Fulton Street; Thursday, May 3 at 2 pm, the
Sanctuary at the Riverside Church
, 490 Riverside Drive; Friday, May 4 at 6 pm,
H. Frank Carey High School
, 230 Poppy Avenue, Franklin Square.
We know our students will benefit enormously from performing in these extraordinary locations, especially St Paul's Chapel, where George Washington once worshipped and which was used as a refuge during the September 11 rescue operations. We thank everyone who has helped support the tour and all of you who have helped support our programs throughout the year. Have a wonderful summer.
Photo: Upper: Kerro Knox 3 with OU President Gary Russi at the Faculty Recognition Luncheon
Lower: Mark Stone with OU President Gary Russi at the Faculty Recognition Luncheon
Photos by

Jerry Zolynsky