Thursday, April 19, 2012
AMA at OU recognized nationally and locally for service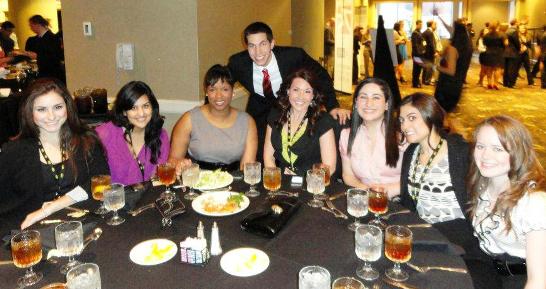 The AMA at OU has earned several national and Oakland awards.
Members of Oakland University's American Marketing Association chapter recently traveled to New Orleans for the AMA International Collegiate Conference, where they participated in a number of learning opportunities, collected several awards and delivered a formal presentation to college students from around the country.
The AMA at OU was recognized as one of the top 25 chapters out of more than 300 nationwide. The group also received top honors for fundraising, community service and communication and received an award for videos created to support the AMA Saves Lives campaign focused on organ donation.
In addition to national acclaim, the chapter was also recognized as a top student organization by Oakland's Center for Student Activities. At a ceremony earlier this month, the group received the Most Professional Organization Award and the prestigious Outstanding Student Organization Award. In addition, the chapter's faculty adviser, Dr. Mohan Pisharodi, won the Black and Gold Award and Stephanie Moore, AMA president, claimed the Outstanding Leader Award.
OU's American Marketing Association chapter recently traveled to New Orleans for the AMA International Collegiate Conference, and brought home several OU awards.

Created by Katherine Land - Deleted (land@oakland.edu) on Thursday, April 19, 2012
Modified by Katherine Land - Deleted (land@oakland.edu) on Thursday, April 19, 2012
Article Start Date: Thursday, April 19, 2012