Monday, April 16, 2012
MTD students wow at Senior Showcase in New York City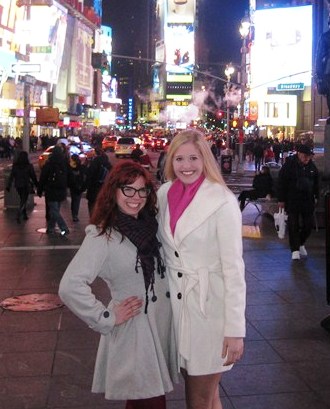 Senior MTD students Elizabeth Fritsch (left) and Ashley Rozanski in Times Square.
As part of Oakland University's Musical Theatre program, the graduating students travel to New York for a "Senior Showcase" audition for casting directors and agents. For the first time in university history, all 13 students received a call back on their performance.
Each student had only two minutes to demonstrate his or her abilities, explained Fred Love, associate professor and program director. Each student prepared a short monologue or song showing their versatility in acting and singing styles, movement ability, and other talents unique to the individual.
"The Senior Showcase is a very important final step in the education of our students," Love said. "The presentation is a glimpse into a very important part of the professional stage and film industry – the audition."
The Department of Music, Theatre and Dance planned the trip along with theatre group from Western Michigan University, which allowed both groups to perform their showcases to a full audience.
Senior student Lauren Knox was impressed with the trip and grateful for the opportunity to audition.
"The resources provided by the Actors Connection were invaluable," she said. "They made the thought of living and working as an actor and artist in New York much less daunting. I was encouraged by the feedback and inside advice from the working professionals that they connected us with, it was truly tailored for the stage we're all at right now in our careers."
In addition to the showcase, students were able to explore the city, visit the sites and take in shows. Some of the students also drove out to East Hampton to visit Grey Gardens, the home of the Beale family and the setting for OU's recent musical production.
The trip was a highlight of the experience for student Susanna Allen. "Talk about a once in a lifetime opportunity," she said. "It was the best research we could have ever done. You could feel the energy of those two staunch women in that house. I will hold that wonderful week in New York close to my heart for years to come."
Since returning home, senior Ashley Rozanski is one of several OU students that has maintained contact with some of the agents from New York. "I am very proud of our class this year. This experience has opened up a lot of very exciting opportunities for our senior class, and I know I do not only speak for just myself when I say that the Musical Theatre class of 2012 will be proud to call themselves Oakland University alumni, in whichever city our futures take us."
To learn more about programs or events in Oakland's MTD, view the website at
oakland.edu/mtd
.
All of OU's graduating MTD students who traveled to New York City for a "Senior Showcase" audition received a call backs from agents and casting directors.

Created by Katherine Land - Deleted (land@oakland.edu) on Monday, April 16, 2012
Modified by Katherine Land - Deleted (land@oakland.edu) on Monday, April 16, 2012
Article Start Date: Monday, April 16, 2012