Thursday, April 12, 2012
Two dedicated OU staffers earn Sharon Wilhem Excellence Awards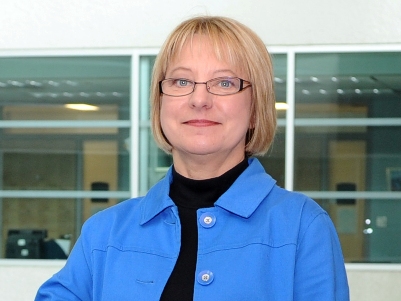 Virginia "Jenny" Cloutier
Two of Oakland University's most dedicated staff members are being recognized for their exemplary work and outstanding service. Virginia "Jenny" Cloutier and Dorothy Farrior are the 2012 recipients of the Sharon L. Wilhelm Excellence Award.
Named for longtime employee Sharon Wilhelm, the award honors high-level administrative support staff members who evoke Wilhelm's devotion to outstanding service, extraordinary work ethic and supportive can-do attitude.
Both awardees are well-known on campus, and go above and beyond their position responsibilities, while cultivating an inviting and helpful atmosphere in their departments.
For the past 35 years, Cloutier has filled a number of roles in the Oakland community, from receptionist work in the Office of Undergraduate Admissions and then Financial Aid, to her current position at the Oakland University Center for Autism Research, Education and Support (OUCARES).
At OUCARES, Cloutier's position is unique. Not only does she assist callers and offer information for families, but she also helps to keep events and programs organized, often collaborating with other campus departments. Additionally, Cloutier manages the OUCARES budget and makes important decisions regarding purchasing and planning.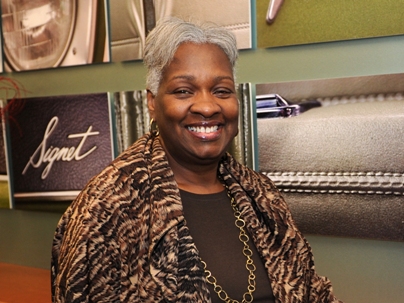 Dorothy Farrior
Farrior has served Oakland for more than 21 years, currently offering assistance and a wealth of knowledge in E-Learning and Instructional Support. She coordinates the processing of a variety of multi-step processes while serving as a resource for faculty and department guests, ensuring that all university policies, rules and procedures are being followed.
Beginning as a senior data entry operator, Farrior has consistently gone above and beyond her duties, even offering training courses in Word, Word Graphics, Word Merge, as well as new user training for Banner and data entry standards. At e-LIS, Farrior monitors the department budget, coordinates daily processes and procedures, manages and hires student personnel, and processes all forms, records and documents.
A reception to recognize Cloutier and Farrior is set for noon to 1:30 p.m. on Thursday, April 19, in the Oakland Center Banquet Room A. The entire university community is invited to attend.
Virginia "Jenny" Cloutier and Dorothy Farrior are the 2012 recipients of the Sharon L. Wilhelm Excellence Award.

Created by Katherine Land - Deleted (land@oakland.edu) on Thursday, April 12, 2012
Modified by Katherine Land - Deleted (land@oakland.edu) on Thursday, April 12, 2012
Article Start Date: Thursday, April 12, 2012