Monday, April 2, 2012
Mark your calendar for exciting OUAA events this summer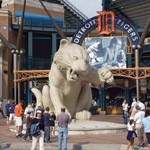 Over the next few months, the OUAA will be competing on the golf course and catching fly balls at Comerica Park. Mark your calendars to join us for some summer fun!
Save the date:
OUAA Golf Challenge – Monday, July 16
OU Night at Comerica Park – Wednesday, August 22
Also, don't miss these exciting fall events:
Brooksie Way Half Marathon – Sunday, September 30
Alumni Awards Banquet – Friday, October 26
For more information on these and other events, visit us online at oualumni.com or contact Christina Simon, event coordinator, at casimon2@oakland.edu or 248-364-6134.
Over the next few months, the OUAA will be competing on the golf course and catching fly balls at Comerica Park. Mark your calendars for some summer fun!

Created by Donna McVay (mcvay2@oakland.edu) on Monday, April 2, 2012
Modified by Donna McVay (mcvay2@oakland.edu) on Tuesday, April 10, 2012
Article Start Date: Monday, April 2, 2012