Pictured from left to right: Jacqueline Mannino, Enrique Paz,
Dr. Graeme Harper, Jessica Tess, and Shannon Cooley.


Five Oakland University students are set to take a significant leap in their academic careers, as each prepares to present original research at the National Conference on Undergraduate Research (NCUR) this March.
Covering a diverse range of topics, the students will travel to Ogden, Utah to present their work. Of the five students selected, four are also Honors College students. Senior History and English major Shannon Cooley, senior Biomedical Diagnostic and Therapeutic Sciences (BDTS) major Jacqueline Mannino, and senior Writing and Rhetoric and Japanese Language majors Enrique Paz and Jessica Tess from the HC will be joined by senior music major Jane Hines.
"This is an incredible showing for Oakland," said Graeme Harper, Ph.D., director of Oakland's Honors College. "This is the first time we have sent so many students, all of whom are coming from different majors and bringing different ideas to the table. OU is making a very strong, interdisciplinary showing without even trying for it. This will be a great opportunity for our students to get exposure to notable institutions and all kinds of research."
NCUR promotes undergraduate research, scholarship, and creative activity in all fields of study, offering a forum for young scholars to share the results of their work through presentations, performances and works of art. At the conference, students will have 15 minutes to present their research, and moderate five minutes of audience questions.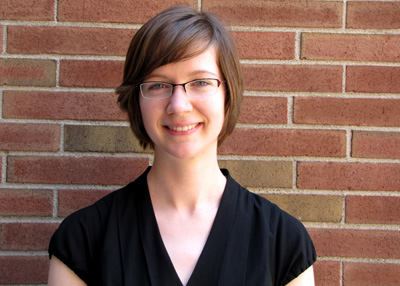 Senior music major Jane Hines will present her paper at NCUR.


Cooley will present her research paper, "The Peculiar Solution: The Reaction of African Americans to the Colonization Movement," which grew out of a history class assignment.
"I've always been interested in issues of race, especially in a historic and literary context," she said. Cooley plans to craft her final HC thesis around similar themes, specifically looking at racial issues in the texts of famed nineteenth century literary figure Edgar Allen Poe.
Mannino's research, which is focused on tests to determine genetic defects in unborn fetuses, holds a personal interest. In her presentation, "Pre-Implantation Genetic Diagnosis vs. Pre-Natal Genetic Screening: A Closer look at Down Syndrome and the Ethics Involved," Mannino outlines the dangers of inaccurate testing and shares her family's experience, when her mother received a false positive result of fetal down syndrome while pregnant with Mannino's sister.
"It's exciting to get my ideas out there, to share them and maybe make a difference," Mannino said. "This is a great opportunity to see students from all different disciplines and to see where their interests lie."
Paz and Tess will jointly present "Raising Researchers: Effective Sponsorship for Undergraduate Research," a piece they originally created with a focus on university writing centers. The pair has presented at a variety of regional and state academic conferences, but is looking forward to their first national experience.
"It will be interesting to see this mix of presenters," Tess said. "There will be a lot of different topics and different people. Most of the conferences we have attended are more for faculty and graduate students. We are excited to see the caliber of presentations with all undergraduate students."
"Our second national conference will take place soon after this one, so this will be a great experience," Paz said. "With the same double major, Jessica and I have had a ton of classes together. We're like carbon copies of each other."
Hines' will present her music theory paper, "Innovation in Song: Brahms's 'Der Abend,' Opus 64, No. 2," which examines an accompanied vocal quartet by Johannes Brahms that sets the poem "Der Abend," by Friedrich Schiller. The 19th-century art song is a highly idiomatic genre and Hines hopes to highlight innovative compositional elements that exist below the surface-level of the music, resulting in a more profound, musical representation of the text that may have otherwise been overlooked.
"I am very excited for the opportunity to meet other students from across the country who share a love for research. I am also looking forward to presenting my work at the conference, something I hope to continue doing throughout my education and career," Hines said.
On the whole, students and faculty alike are excited to attend the conference, and have plans to increase Oakland's participation in the future.
"We're looking forward to having a bit of adventure," Dr. Harper said.
For more information about Oakland's Honors College,
view the website
. For more information about Oakland's Department of Music, Theatre and Dance, visit
oakland.edu/mtd
.
Five senior OU students have been selected to present their original research at the National Conference on Undergraduate Research.

Created by Katherine Land - Deleted (land@oakland.edu) on Friday, March 30, 2012
Modified by Katherine Land - Deleted (land@oakland.edu) on Friday, March 30, 2012
Article Start Date: Friday, March 30, 2012