Monday, March 26, 2012
New class HRD 344: Lean Kaizen in Organizations now offered Winter 2013
Oakland University's School of Education and Human Services is offering a new Lean course in the winter 2013 semester, as part of the Human Resource Development Department.
The class, HRD 344: Lean Kaizen in Organizations, was developed by Mark Doman, OU professor in Lean studies and special instructor for HRD. H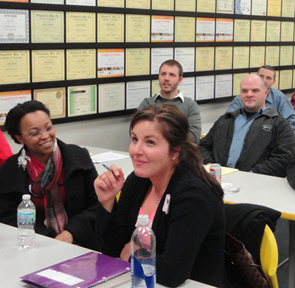 e designed this class as part of a
Pawley Institute Fellowship
he received last year.
The course is designed to teach students how successful Lean kaizens, or process improvement events, are conducted in different areas of industry. There are six main areas of focus in this class: Lean philosophy, Lean tools and techniques, teambuilding, kaizen methodology, organization change, and presentation and facilitation.
Using a hands-on learning approach, Doman has designed the class with guest lectures, case studies, simulations and more to help students gain a better real-world understanding of Lean concepts.
"This is knowledge and a skill set that is highly valued in the workplace, especially in Southeastern Michigan," Doman said. "More and more companies are looking for Lean trained college graduates who are already skilled in Lean thinking and Lean tools and techniques."
Through this course, students will be given the opportunity to be part of a kaizen team. Using what they learn in the classroom, they will work together to implement Lean practices on a real project within a participating company.
HRD 344 is the preferred elective for
Industrial and Systems Engineering
students and will satisfy the university's general education requirement for the knowledge application integration.
Registration for OU classes is currently underway. For more information, please visit
oakland.edu/lean
.
Oakland University's School of Education and Human Services is offering a new Lean course in the winter 2013 semester, as part of the Human Resource Development Department. The class, HRD 344: Lean Kaizen in Organizations, was developed by Mark Doman, OU professor in Lean studies and special instructor for HRD, as part of a Pawley Institute Fellowship he received last year.

Created by Rachel Zynel (rezynel@oakland.edu) on Monday, March 26, 2012
Modified by Amanda Benjamin (aabenjam@oakland.edu) on Thursday, April 12, 2012
Article Start Date: Monday, March 26, 2012