Tuesday, March 20, 2012
OU theatre students to stage the cult classic musical "Grey Gardens"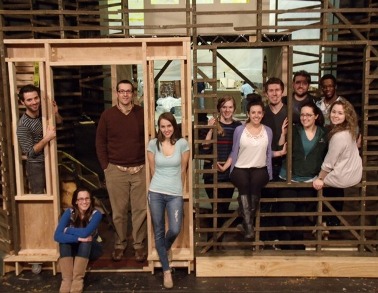 The cast of the Oakland University Department of Music, Theatre and Dance's production of "Grey Gardens."
The Department of Music, Theatre and Dance at Oakland University will present the hilarious, yet heartbreaking, musical "Grey Gardens" starting on Thursday, March 22, and continuing through Sunday, April 1.
Inspired by the cult-classic documentary film of the same name, the musical centers on Edith Bouvier Beale and her daughter, "Little Edie" – Jacqueline Kennedy Onassis' most scandalous relatives. Members of the famed, and once high-society Beale family, the two become East Hampton's most notorious recluses, living in a dilapidated mansion with 51 cats.
Students and faculty – some of whom recently toured the East Hampton home where the two Beale women lived – will bring the stage production to life. Their visit included an opportunity to meet and learn from the Beales' friend, artist and author Lois Wright.
"The tour of the Beale home and the time we spent with Lois Wright were priceless research allowing us insights into this mother/daughter relationship that are really going to allow us to bring these characters to life," said OU Assistant Professor Anthony Guest, who directs the show.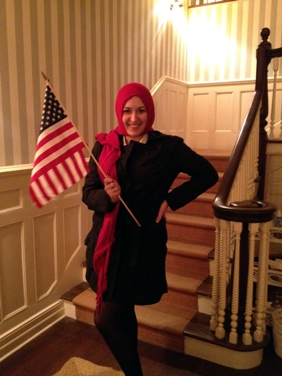 OU theatre major Allie McCaw, who plays Little Edie in "Grey Gardens," stands in the East Hampton home during a recent visit.
OU theatre major Allie McCaw, who has taken on the role of Little Edie, echoed the thought.
"After getting to literally follow in the footsteps of the Beales by walking around their beloved Grey Gardens and spending time with their dear friend, Lois, I felt an overwhelming sense of responsibility to honor and respect these women in my portrayal of them," she said. "The visit was truly magical. I am so thankful for this experience and cannot wait to get back to rehearsals and put the magic we felt there into our show."
Performances of Grey Gardens will take place in Varner Studio Theatre on the campus of Oakland University. Interactive and printable maps are available at
oakland.edu/map
.
Tickets are $18 for general admission and $10 for students and attendees of 10 a.m. matinee shows. For a complete listing of dates and times, see the MTD season brochure at
oakland.edu/mtd
. For ticket information, visit
oakland.edu/tickets
or call (248) 370-3013.
The Department of Music, Theatre and Dance will present the hilarious, yet heartbreaking, musical "Grey Gardens" from Thursday, March 22, through Sunday, April 1.

Created by Katherine Land - Deleted (land@oakland.edu) on Tuesday, March 20, 2012
Modified by Katherine Land - Deleted (land@oakland.edu) on Tuesday, March 20, 2012
Article Start Date: Tuesday, March 20, 2012