by Gillian Ellis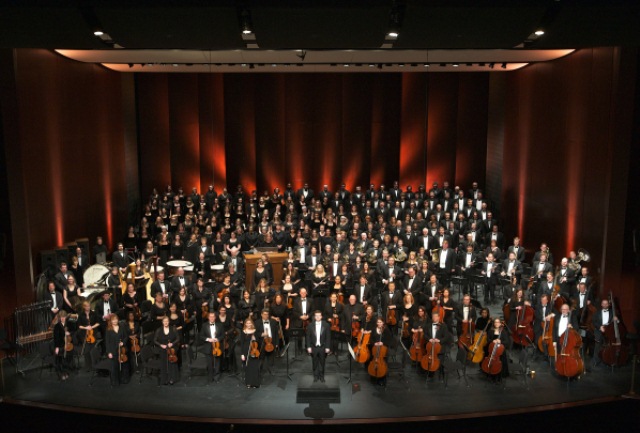 The students, faculty and guest performers of our music program provide the university and the wider community with a dazzling array of recitals throughout the year, covering many aspects of performance, from opera though chamber music, from Native American percussion to traditional brass band. And we can never really predict when the moments of real magic will happen. Indeed, those moments may be experienced differently by each individual audience member.
But this March, we believe we can offer two pretty good "safe bets" for unforgettable musical experiences. Think of them not as March Madness, but as March Magic. We encourage you to get your tickets right now. They are not-to-be-missed events. And part of that magic will be location, location, location.
On
Wednesday, March 14
, the
Oakland Symphony Orchestra and the Oakland University Symphony Chorus
will leave campus and take their show "on the road" to perform at Detroit's Orchestra Hall, the home of the Detroit Symphony Orchestra.
Associate Professor Michael Mitchell,
music program director and conductor of Symphony Chorus says, "I think it is wonderful that we go every year now to Orchestra Hall to perform the final concert of the Oakland Symphony season with the Symphony Chorus. It's one of America's great concert halls and it makes for a truly memorable experience for the students. Performing great music in a great concert hall is one of the most memorable experiences we can give our students, and it is especially important since we don't have a concert hall on campus."
So, with no concert hall yet, how does OU come to have its own symphony orchestra?
Professor Emeritus David Daniels
explains how that came about. "The Oakland University Orchestra was an all-student ensemble from the founding of the university until 1977, [when] under the leadership of Music Department chair
Raynold Allvin
, the University entered into an agreement with the Pontiac-Oakland Symphony (POS) to merge the two organizations. OU would supply rehearsal and performance facilities, student orchestra members, and a music director
[Professor David Daniels
]; the Pontiac-Oakland Symphony would provide its decades-long history of community support and its cadre of amateur and professional musicians.
"The combined orchestras embarked on a rewarding excursion of over three decades of concerts for the expanding audience. An annual concert series was supplemented by occasional pops events, summer concerts in various venues, and an enthusiastically-received series of youth concerts in schools of the Pontiac area."
Professor Daniels retired in 1997 and was succeeded as director of POS by
Dr. Gregory Cunningham
. In 2010 the orchestra changed its name to the Oakland Symphony Orchestra (OSO) and became the formal orchestra-in-residence of the university, offering our brightest and best music students an opportunity to perform the finest orchestral works alongside faculty and area professionals.
The Orchestra Hall concert will feature the always popular
The Rite of Spring
by Stravinsky.
David Mety,
who plays in the percussion section, says, "I remember being there for our last performance at Orchestra Hall when they performed Verdi's
Requiem
, and it was great to hear our orchestra and chorus in such a beautiful hall. Now, I get to return there, this time as the second timpanist in the orchestra, and I will now have the privilege to perform, playing some of the most intense and beautiful orchestra music out there!"
Michael Kimball
, who sings in the Symphony Chorus, is another student looking forward to what he knows may be a once-in-a-lifetime experience. The chorus will sing Vaughan Williams'
Dona Nobis Pacem
. "This piece runs the gamut of emotions, and that's what I love about it. It's extremely chaotic and frightening at some points, extremely touching at others, and extremely joyful during other segments. It gives us a chance to express ourselves in so many different ways."
Michael, whose voice teacher is
Assistant Professor Drake Dantzler
, goes on to say, "I have never sung in an auditorium this large before, and certainly never performed at any venue that has as much historical significance as Orchestra Hall. To perform [there] means a lot to me. Who knows if I will ever get a chance to do something like this again? I am continually amazed at the opportunities that the OU music program provides, and especially impressed with the top-of-the line voice faculty. I don't think people realize that Oakland University, a school that is little known outside of Michigan, is providing a voice education which measures up to MSU and U of M. I am honored to be a part of it."
At the end of the month, on
Friday, March 30
, the new music ensemble
Alarm Will Sound
will perform in Varner Recital Hall. Ordinarily, this is a concert one would expect to have to make the trip to Orchestra Hall or the Detroit Opera House to hear, and the department is honored to be hosting such a prestigious band. There is little doubt that the concert would have gone to one of the big Detroit houses were it not for our man on the inside, OU jazz coordinator and
Assistant Professor Miles Brown
, who plays bass with Alarm Will Sound.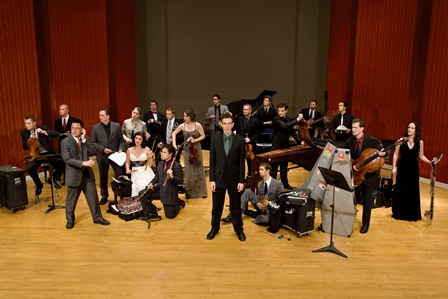 They will play music by Aphex Twin, John Cage, Charles Wuorinen, John Adams, and John Orfe, who is an Alarm Will Sound member. Earlier we wrote of the band as a safe bet to provide a night of musical magic, but in reality, there is nothing safe about Alarm Will Sound. Their repertoire is challenging and therein lies the magic. It is a night that no music lover will want to miss.
We invite you to join us for both of these evenings. Tickets for both events are $20 general and $10 for students, with some free students tickets available for the Alarm Will Sound concert. They can be picked up at the Student Activities Funding Board office on campus on a first-come-first-served basis. Tickets are available for purchase from all our usual services, with information available at
oakland.edu/tickets
and please remember there are never any service fees for pre-ordered tickets. Will call tickets will be held at Orchestra Hall for the OSO concert.
Photos: Top: The Oakland Symphony Orchestra and the Oakland University Symphony Chorus. Photo by Rick Smith.
Bottom: Alarm Will Sound. Photo by Carl Socolo.