Tuesday, February 28, 2012
WXOU to be named Michigan's college Station of the Year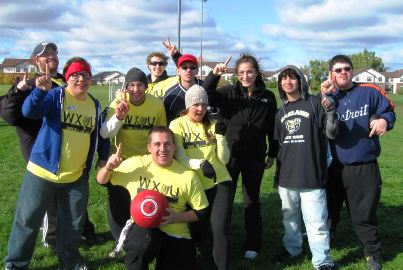 The WXOU crew will be named the Station of the Year by MABF.
The sound of success is sweet for Oakland University's student radio station WXOU-FM. The station and its student participants are set to rake in several awards from the Michigan Association of Broadcasters Foundation (MABF), including the overall Station of the Year award.
The honor is a first for WXOU since its inception in 1966. The awards will be announced officially on Wednesday, March 14, at the Michigan Association of Broadcasters at the Great Lakes Broadcasting Conference in Lansing Michigan.
"This is the culmination of several years of hard work," said Jennifer Heisler, chair of the Department of Journalism and Communication. "The students and the advisory board have put in hundreds of hours over many months to practice, perform, and perfect their shows. Over the last few years we've seen the students perform increasingly well in the radio competitions - this year's award is the result of their long commitment to the station."
WXOU's students fared well as individuals, sweeping the sports category. Seniors Matt Pocket and Bryan Everson took first place, communication majors Sean Varicalli and Cam Smith came in second place, while communication major and WXOU Sports Director Matt Pocket and journalism graduate Kyle Bauer each received an honorable mention.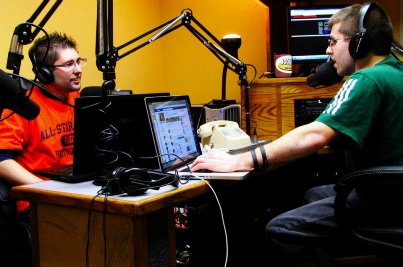 Matt Pocket and Bryan Everson earned first place in the sports category.
At the same time, senior communication majors Will Kosnik earned first place and Steve Wiseman earned second place in the radio air check category. Wiseman also took second place for news feature, and WXOU's general manager and cinema studies major Phil Berard took first place for public service announcement.
Sean Varicalli, WXOU's promotions manager and communication major, earned second place for promotional announcement. Promotional announcement honorable mentions were given to WXOU Music Director and communication major Luke Phillips, communication major Christina Venditti, and communication major Patrick Cymbalski.
Berard also earned first place in the multimedia station activity report category.
Combined, these awards have pushed WXOU into the spotlight, taking the Station of the Year award away from Michigan State University, who has won the award for the past 11 years consecutively.
"I am extremely proud of not only the winners, but all of the students who submitted their work for review," said Christine Stover, WXOU's faculty adviser. "This is the first time Oakland University and WXOU has been recognized in this capacity and everyone at WXOU is elated. This award is reflection not only of the amazing student talent we have at WXOU, but also tremendous amounts of time and dedication among our volunteer staff."
For more on WXOU-FM (88.3), visit the website at
wxou.org
.
OU's student radio station WXOU is set to rake in several awards from the Michigan Association of Broadcasters Foundation, including the overall Station of the Year award.

Created by Katherine Land - Deleted (land@oakland.edu) on Tuesday, February 28, 2012
Modified by Katherine Land - Deleted (land@oakland.edu) on Tuesday, February 28, 2012
Article Start Date: Tuesday, February 28, 2012