Wednesday, February 15, 2012
Award-winning book focuses on boosting African American literacy
By Dave Groves, staff writer
Oakland University Associate Professor of Literacy Gwendolyn Thompson McMillon and two colleagues have authored a relevant and insightful book examining the challenges and the promise of advancing literacy among African American students.
"Change Is Gonna Come: Transforming Literacy Education for African American Students," a recent recipient of the Edward B. Fry Book Award from the Literacy Research Association, builds on decades of student achievement gap research data to pinpoint the source of learning obstacles and how they can be overcome.
This analysis involves exploring student access to literacy education; supports and roadblocks to success; best practices, theories and perspectives on teaching African American students; and the role of African American families in the literacy lives of their children. Included in the book are real stories from the authors' diverse family histories and experiences as students, teachers, parents and community members.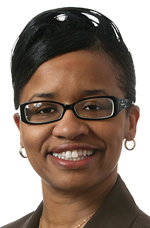 Gwendolyn Thompson McMillon
"African Americans have a rich culture that provides the context for unique literacy experiences," Thompson McMillon said. "Culturally responsive teachers can utilize this information to develop instructional strategies that prepare African American students for success in a global society."
The daughter of a Baptist preacher, McMillon was raised to value a good education as a means to liberation from life in the ghetto. Her experiences and those of her co-authors have inspired thoroughly researched, practical methods of teaching children from many walks of life, including impoverished, inner-city areas with crack houses on every block, gang violence and hopelessness that overshadows childhood dreams of success.
"I hope 'Change is Gonna Come' will help teachers understand the importance of making sacrifices to help their students," she explained. "If they keep teaching the same old way, they will get the same old results. They have to do something different to get different results."
"Change is Gonna Come," co-authored by Patricia A. Edwards and Jennifer D. Turner, is published by Teachers College Press, New York. Additional information is available through the
Literacy Research Association
and Oakland University's
School of Education and Human Services
.
Associate Professor of Literacy Gwendolyn Thompson McMillon has co-authored a book examining the challenges and the promise of advancing African American literacy.

Created by David Groves (groves@oakland.edu) on Wednesday, February 15, 2012
Modified by David Groves (groves@oakland.edu) on Wednesday, February 15, 2012
Article Start Date: Wednesday, February 15, 2012