Thursday, January 19, 2012
OU formula race car builders get visit from Gov. Snyder at NAIAS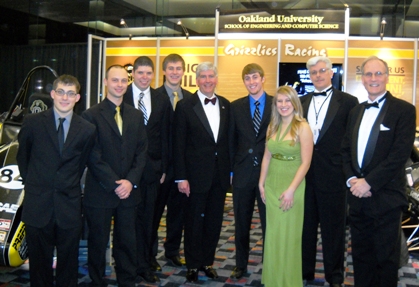 Gov. Snyder, center, joins members of the Golden Grizzlies racing team for a photo. From left, they are Matt Schmalenberg, John Smerczak, Tom Garvey, Pat Hoenle, Mike Pariseau, Katie Lonczynski, Scott Meyers and Associate Professor Brian Sangeorzan.
Oakland University students involved in the increasingly popular international Formula SAE collegiate car design competition have once again had the honor of showing off their work at the North American International Auto Show in Detroit.
The honor was made all the more memorable, however, when Gov. Rick Snyder paid a visit with the Golden Grizzlies team and complimented the display of their 2010 and 2011 race cars.
"The students put so much hard work into this, so I think it's great that they got some recognition when the governor stopped by," said Brian Sangeorzan, associate professor of mechanical engineering in the Oakland's School of Engineering and Computer Science.
Each year, a team of up to 40 students pool efforts to design, build, test, market and compete with a formula-style racecar. Most team members are from the SECS, but participants have come from other disciplines as well, including programs in OU's School of Business Administration, School of Nursing and others.
Their efforts have paid off. Though the Golden Grizzlies teams have worked with budgets of only $15,000 or so, they've placed as high as 11th and 13th in competitions hosting as many as 120 international teams.
Sangeorzan said that as much as students enjoy engaging in all aspects of the competition, they also enjoy representing the university at events that attract automotive industry representatives, potential team sponsors and prospective students. The NAIAS regularly delivers on all counts.
"We've had a number of high school students come up to us this year and ask a lot of questions, and we've even had parents of both prospective students and students who are already here come and talk to us," he explained.
The Oakland cars and the students who've helped build them will continue to greet visitors in the lobby outside the main entrance of the auto show through Sunday, when this year's NAIAS comes to a close.
Oakland University students involved in car design competitions won compliments from Gov. Rick Snyder on the display of their 2010 and 2011 race cars.

Created by Katherine Land - Deleted (land@oakland.edu) on Thursday, January 19, 2012
Modified by Katherine Land - Deleted (land@oakland.edu) on Thursday, January 19, 2012
Article Start Date: Thursday, January 19, 2012