Monday, January 9, 2012
Illusion and invention reign in new painting exhibit at OUAG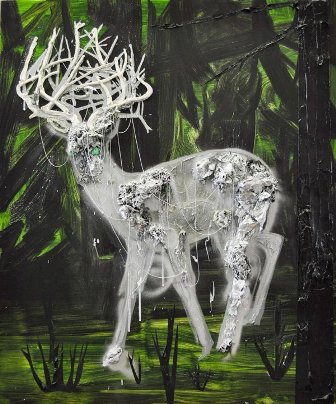 OUAG will present an exhibit of contemporary paintings, including this piece, Ghost (Deer), by Kim Dorland.
A taste of New York art fare is headed to the Oakland University Art Gallery this winter. The exhibit, "Idealizing the Imaginary: Illusion and Invention in Contemporary Painting," will be on display from Saturday, Jan. 14 through Sunday, April 1.
The collection, a survey of contemporary painting, is drawn from the stables of nine eminent New York galleries and the Olga Korper Gallery, in Toronto, and brings the work of fourteen major New York artists to Detroit.
The works are reflexive of the practice of contemporary painting: creating a surface that is neither a window onto the extant, nor a mirror, but rather a platform expressing the interior feelings and thoughts of each artist onto a vital exterior surface.
These artists reinvigorate and reintroduce painting as something urgently relevant, interdisciplinary and contemporaneous.
Through painting, the artists work to make their thoughts and feelings universally accessible for everyone to experience. They make painting a transcendent practice, not one defined by image or doctrine, but rather by idealization of the imaginary and the recognition that invention and illusion are the engines of artistic freedom, change and necessity.
The Oakland University Art Gallery is supported by grants from The Kresge Foundation, Michigan Council for Arts and Cultural Affairs, National Endowment for the Arts, College of Arts and Sciences, and by the generosity of individual donors.
This exhibition is curated by Dick Goody, director of the OUAG, and includes a full-color catalogue. The opening reception is set for 5-8 p.m. on Saturday, Jan. 14. For more information, visit the website at
oakland.edu/ouag
.
The OUAG will host a new exhibit, "Idealizing the Imaginary: Illusion and Invention in Contemporary Painting," from Saturday, Jan. 14 through Sunday, April 1.

Created by Katherine Land - Deleted (land@oakland.edu) on Monday, January 9, 2012
Modified by Katherine Land - Deleted (land@oakland.edu) on Monday, January 9, 2012
Article Start Date: Monday, January 9, 2012