Thursday, January 5, 2012
Voice and Instrumental Intensives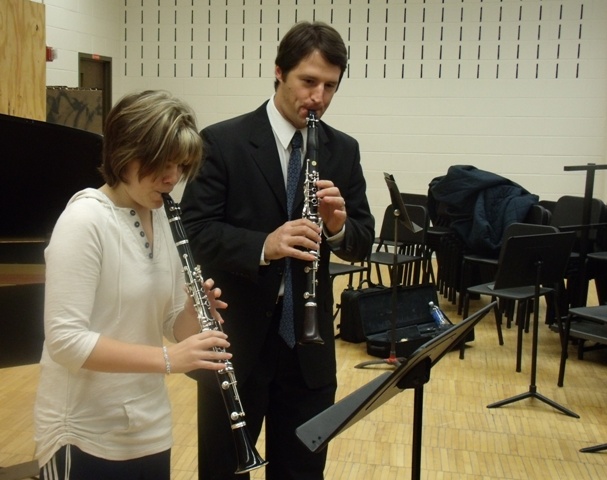 High school musicians and singers will fill the halls of the Music, Theatre and Dance Department this January and February, as they visit Varner to sample the OU experience. Faculty and staff have planned intensives that will allow young people to expand their musical horizons and experience music in a university setting. Each of the workshops will feature distinguished musicians and educators who will work with students, individually and in groups, to provide an inspirational learning experience.
First up will be
Woodwinds Day
, with flute and clarinet master classes on Saturday, January 7. The event will be hosted by OU Associate Professor of Clarinet
George Stoffan
, who will be joined by Detroit Symphony Orchestra musicians
Sharon Sparrow
, principal flute;
Jeffery Zook
, piccolo and flute; and
Shannon Orme
, bass clarinet. Special guest will be
Christopher Hill,
principal clarinetist of the South Dakota Symphony, clarinetist with the Dakota Woodwind Quintet and renowned clarinet mouthpiece designer. There is a $15 fee. For more information email
stapleto@oakland.edu
. To register, visit
oakland.edu/woodwindsday12.
On Saturday, January 14, vocalists are invited to
Voice Day,
which will feature
Adam Rubin MD
, laryngologist, and
Dr Cristina Menaldi
, speech and language pathologist. They will present the best strategies and tips for developing and maintaining a healthy singing voice. Students will interact in a team-taught voice master class with the husband and wife singer/teacher team, Drs
Alta and Drake Dantzler,
as well as receive complimentary tickets to MTD's performance of Mozart's
Cosi fan tutte
that night. This is a free event. For more information email
stapleto@oakland.edu
. To register, visit
oakland.edu/voiceday12.
Joe Reilly will be the featured performer at
Percussion Da
y on Saturday, January 28, but all styles of percussion will be showcased, including percussion from around the world, solo and ensemble coaching, drumming in the classroom, South Indian rhythmic structures, a jazz drum-off and drum clinic, native drum and song, Ghanaian percussion, a kalimba clinic, and a drum circle. This event is free. For more information email
stapleto@oakland.edu
or visit
oakland.edu/percussionday12
The last of our winter intensives will be
Piano Day, A Day in Varner Hall in Celebration of the Piano
, on Saturday, February 4. This intensive will offer enriching artistic experiences tailored to students ages 10-18, including private diagnostic lessons from OU piano faculty, a workshop with a 20th century music specialist, the choreography of JS Bach's keyboard dances, a Showcase Concert by OU piano students, an honors recital by selected participants, and the presentation of cash prizes and awards. There is a $30 application fee. For more information email
happel@oakland.edu
. To register, visit
oakland.edu/pianoday
.
Photo: Student Jessica Commyn and Associate Professor George Stoffan play clarinet.


Created by Gillian Ellis (gellis@oakland.edu) on Thursday, January 5, 2012
Modified by Gillian Ellis (gellis@oakland.edu) on Friday, January 6, 2012
Article Start Date: Thursday, January 5, 2012