Thursday, January 5, 2012
Marvin "Doc" Holladay: A Life in Music
by Gillian Ellis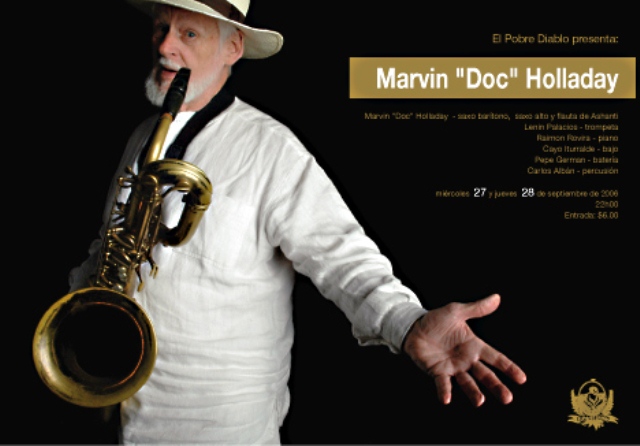 From 1972 until 1988, the music program at OU was enhanced by the skill and experience of a jazz musician who, in a decades-long career as a professional musician, had played with many of the "greats." He performed or recorded with Ella Fitzgerald, Dinah Washington, Billy Eckstine, Quincy Jones, Dizzy Gillespie, and countless others. He toured worldwide with the Duke Ellington, Dizzy Gillespie, and JC Heard Orchestras. This musician, Marvin "Doc" Holladay, was the first director of jazz and world music studies at OU and as such, he was the founder of the first jazz program in Michigan. Within a few years of his arrival, the program was offering both a bachelor and master's degree in Jazz, but as he makes clear in his fascinating and candid autobiography,
Life, On the Fence,
Holladay's years at OU were not always wonderfully happy.
Holladay came to OU after completing a Ph.D. in Ethnomusicology at Wesleyan University. After years of making a living as a freelance jazz musician around the New York jazz scene he began graduate work after the birth of his second child, and during his studies he became passionately interested in world music, long before such a thing was fashionable. His research had begun as an exploration of the African roots of jazz and developed into a much wider interest, in part because Wesleyan University had at that time resident musicians from Japan, Korea, Java, India, as well as West Africa. He writes, "This awareness of the validity of all cultures . . . created the most exhilarating musical environment I have ever experienced in an academic institution."
The acceptance of all cultures as worthy of academic study was probably not in line with mainstream thought in the America of 40 years ago. And apparently, neither was the idea of jazz as an academic discipline. In his book, Doc Holladay recalls that some of his early OU colleagues didn't really understand that jazz was best taught by exponents of the art form, and he encountered resistance when he invited musicians from the thriving Detroit jazz scene to the university. Miles Brown, who is director of MTD's jazz program today, notes, "Really, the point is that jazz should be studied as a correlate to the standard practice, not in conflict." That there is now common agreement on such an idea is due, in part, to the gutsy determination of musicians like Doc Holladay. But it must be, reluctantly, admitted that Doc saw elements of racism in resistance to the teaching methods he promoted, and his background had made him very sensitive to the issue. As a white man playing "black man's music," he had for many years felt he was sitting "on a fence," hence the title of his book.
Doc Holladay grew up in a rural community in Kansas in the 1930s, a vastly different America from the one we know today. His mother supported his musical ambitions but nevertheless, she was sometimes disapproving of his friends and musical associates, even once he was successful and working regularly as a professional musician. But "Ignorance," Doc says, "is not bliss. It's just ignorance." As a student in high school, he chose to eat in a neighborhood chicken shack instead of at the downtown diner that wouldn't serve his friend. In college, in the army, and in the jazz world he fought a steadfast battle, not only for the validity of his art form, but for human dignity. His reward is to see jazz fully absorbed into the American mainstream and recognized by many as the most truly American music.
Today, Doc lives in retirement in Ecuador but continues to work on music. Read more about his life, music, and his autobiography
on his website.
Photo: A Doc Holladay concert poster.


Created by Gillian Ellis (gellis@oakland.edu) on Thursday, January 5, 2012
Modified by Gillian Ellis (gellis@oakland.edu) on Wednesday, June 20, 2012
Article Start Date: Thursday, January 5, 2012