Tuesday, December 20, 2011
Dean's Circle students help make a happier holiday for area seniors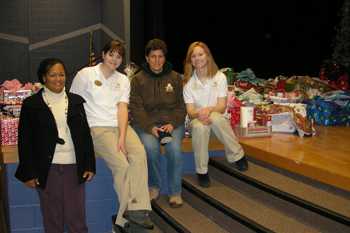 From left, Dean's Circle students Deborah Sanders and Elise Fournier, SON instructor Diane Noack and Dean's Circle student Lisa Polley helped collect and distribute more than 100 gift baskets to area seniors in need.

Members of the School of Nursing's Dean's Circle delivered 110 holiday baskets to the Older Persons Commission (OPC) in Rochester to benefit area seniors in need. With an initial goal of collecting items to fill 12 holiday baskets, students, faculty and staff from units across campus donated items making up the more than 100 gift baskets filled with holiday meals and extra items to make the holiday a little brighter.

Laure Unkart, department head of volunteer services for the OPC, was overwhelmed by the generosity and number of baskets collected and delivered by the students. "The gift baskets were delivered by Oakland University and local Girl Scout Troops to seniors in need of a little extra holiday cheer," she said. "Every year the seniors look forward to the baskets and more importantly a visit, as sometimes that may be the only person they see that day."

A leadership development student organization, the Dean's Circle offers nursing students an opportunity to learn from nurse leaders, network within the profession and to become active members of their community.

"The members of the Dean's Circle are ambassadors for the SON, both on campus and in the community," said Pam Marin, assistant dean and Dean's Circle facilitator. "They partner with SON faculty and staff by supporting outreach programs and events."

Nursing students are invited by the SON to submit a membership application each winter semester. For more information, students can visit

www.oakland.edu/studentnursingorganizations

or call the advising office at (248) 370-4083.
Members of the School of Nursing's Dean's Circle delivered 110 holiday baskets to the Older Persons Commission (OPC) in Rochester to benefit area seniors in need.

Created by David Groves (groves@oakland.edu) on Tuesday, December 20, 2011
Modified by David Groves (groves@oakland.edu) on Tuesday, December 20, 2011
Article Start Date: Tuesday, December 20, 2011