by Gillian Ellis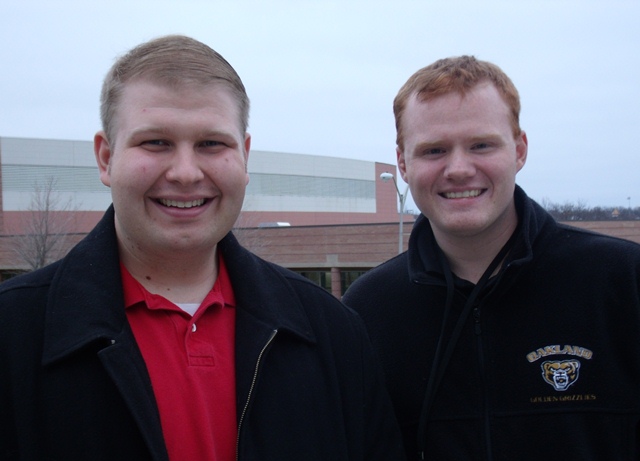 If you watched the recent (November 28) OU Grizzlies men's basketball game against Tennessee on television, you would definitely have understood that the Grizzlies were supposed to lose. The ESPN commentators made that quite clear. But in fact, the Grizzlies scored first and held their lead throughout the game, emerging victors 89-81. Yeah!
Viewers nationwide may have been surprised at the win but here on campus plenty of people have enormous confidence in our OU athletes. "We expected to beat Tennessee," said
Kenneth Kroesche
, associate music professor and director of the Golden Grizzlies Band, in a tone that suggested he was a little surprised anyone would assume differently. "We beat them last year on the road."
This was Oakland's first nationally televised home game and at the press conference afterwards (as reported by Dan Fenner of
Rochester Patch
)
Greg Kampe
, the Grizzlies head coach, said "This wasn't about our team or me tonight. This was about showing Oakland University to the world and to the United States of America. Our student section was unbelievable, the fans were unbelievable — they wouldn't let us lose. We've won so many games in this building over the last few years because of the atmosphere that's been created here." The university is justly proud of that spirit and so is MTD, because that atmosphere is "orchestrated" by the Golden Grizzlies Band. Ken Kroesche says, "It is more than a musical organization. It is the number one spirit organization on campus. We set the tone for what happens at those basketball games."
In fact, the Golden Grizzly Band plays at more than just athletic events. Ken says, "We are the university's band" and as such they are called on to play at several events throughout the year, including at the president's new student convocation where the program is fanfares and processionals rather than popular songs.
But popular songs prevail at the basketball games where the band plays from a selection of around 35 songs, including
OU Fight
, the official OU fight song, which was written by
Michael Mitchell
, associate music professor and head of the music program at OU. Many universities have fight songs that are more than 100 years old, but Mike says that the need for OU to have its own song didn't emerge until 1998 when the university moved up to Division 1 of the NCAA. You can hear the
Golden Grizzlies play the fight song here
.
Much of the day-to-day running of the band is in the hands of two very competent graduate assistants,
Anthony Case
and
Doug Engle
. Both men are OU music grads and enrolled in the master of music program. Anthony is working on a masters in conducting and Doug on a masters in music education. In addition to organizing music, rosters, and instruments – "There are so many variables," says Anthony – they also conduct the band during many games. The band plays
OU Fight
many times during a game, including whenever the team enters or leaves the O'rena, but Anthony says some other crowd favorites include AC/DC's Back in Black, Ozzy Osbourne's
Crazy Train,
and the perennially popular
Hey Baby!
which usually has the crowd up and dancing.
More than 100 students play in the Golden Grizzly Band, though with men and women's events to cover, usually only around 30 musicians play at any one game. About half of them are music major or minors, meaning that 50 percent are drawn from the other schools on campus. The band is probably the music department's most public face. Indeed, Ken Kroesche points out, aside from the athletes themselves, the band is the university's most prominent representation in the world outside of the university, especially when they accompany the team to Summit Conference finals and to the NCAA finals, which they have done the past two years. "It really is madness," says Ken.
"It's your chance to be a rock star for three days," he adds, noting that the NCAA picks up the tab for a charter plane, hotels and meals for the 30 band members lucky enough to accompany the team. "It's a lot of fun. If you don't have fun on a band trip it's your own fault!" Ken jokes. Of course, it's also a big responsibility to so publically represent the school, especially for the grad assistants.
Doug and Anthony are aware of the responsibility and happy to have it. "It is a great honor just to be a grad assistant," says Anthony. "Getting a chance to direct a college band at my age is phenomenal. I am continually trying to prove to my professors that they made the right choice when they gave me this opportunity. I know it helps build my résumé, but more importantly it opens my eyes and provides me with many tools for my future career."
Anthony is also grateful to the people the band works with in Athletics, especially Tim Dameron who works in ticketing and marketing. Anthony says, "He is really great to work with. He gets the whole idea of the band and has helped us improve our organization."
In fact, says Anthony, "It takes a dynamic team to pull off what we do." Kind of like basketball – and life!
Photo: Grad assistants Doug Engle (left) and Anthony Case.