by Gillian Ellis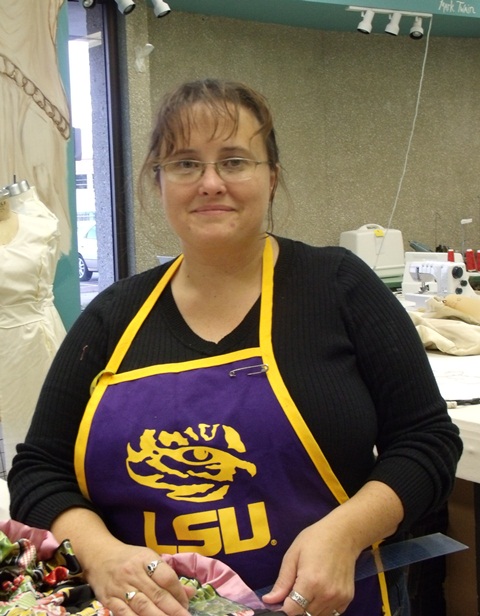 "Opera singers love tight corsets. They tell me it gives them something to push against." Who knew? The singers themselves, presumably, and MTD's new Costume Shop Supervisor,
Michelle Hathaway
, who has brought her varied theatrical and personal experiences to her new academic home here at OU.
Michelle taught high school drama in rural southeastern Colorado for seven years. Facing the prospect of working on a master's degree so she would be in compliance with the No Child Left Behind requirements, she followed her heart and decided to "go back to what I really loved." She quit her job and bravely packed her stuff and journeyed with her two daughters across country to Baton Rouge, where she enrolled in the MFA program at Louisiana State University to focus on Costume Design and Technology. She graduated from there in 2010.
No doubt the safer option would have been to work on an education degree, but Michelle's school produced only one show a year and she says there was little community support for the program. "It wasn't football." In reality, Michelle's heart was in the theatre but she spent much of her time teaching English. At 18 she had entered college as a musical theatre major believing she was "going to Broadway," but she found the auditioning process to be an unpleasant reality check. She shifted focus and graduated with a BA in Theatre and Communications making her final project a lighting design.
In the years after college, Michelle taught herself to sew. Her great grandmother had been a seamstress who made, among many other things, a quilt for each member of her very large family, but she had not wanted to teach Michelle to sew. Nevertheless, because of their shared vocation, Michelle feels a great connection to her ancestor and she treasures not only her quilt, but her great grandmother's "industrial strength" sewing machine, although she refrains from using it in case she breaks it!
Although she started "just making clothes for the family," Michelle felt the craft really called to her and by the time she had to make a decision about graduate school, she knew what she really wanted to do. During her three years at LSU she worked exclusively for the theatre program and was not allowed to take paying gigs, but the school kept her plenty busy. "You don't have time to do anything else," she said. "They run a 12-show season, six main stage LSU shows and six shows at the Equity house on campus, the Reilly Theatre." In addition to these projects, Michelle worked on student shows, operas, and dance productions.
After graduation she accepted a Professional Internship with the Disney organization in Florida. She says the operation is "massive" and "fascinating on many levels." During her time there, Michelle worked with each of the workroom teams in turn. She experienced Pattern Making, which requires the production of a spec sheet so the stitching team knows how to put the pattern pieces together; the CAD Team, which uses software to produce patterns to individualized sizing; the Cut Team, which cuts and bundles the fabric; and the Millinery Team, which, of course, creates hats. She was never allowed to sew. Michelle says Disney has five stitching teams in Orlando, each of them specializes in a certain kind of costume, and they are union shops. Michelle also spent a lot of time verifying old patterns and enjoyed the detective aspect of that work.
Ultimately she thinks of herself essentially as a pattern maker and "first hand," meaning a costumer who can cut, fit, alter, tailor, and manufacture any costume piece. Michelle says, "I like design, but I want to
make
my designs. I don't want to hand them off to someone else." She loves the feel of fabric in her hands. And she sees costume construction as a historical journey of sorts. She is intrigued by the process of discovering how costumes were made and worn. It's "the easiest form of time travel available to man" she says.
"I honed skills I didn't know I had," says Michelle of her time at Disney, but she missed "the interaction with students and the collaborative interaction of the theatre." And with this recognition in mind she chose to seek out a job in academic theatre, applying across the country.
She has found her new home at Oakland, where she says, "Everybody, campus wide, is so incredibly helpful and kind, including the people in human resources." We know that the MTD students will benefit enormously from her curiosity and skills, and see in her life and experience an inspiration for their own futures.
Read more about
Disney Professional Internships here
. And enjoy Michelle's work at her
website and online portfolio here
.
Photo: Michelle in the costume shop at work on a costume for Cosi fan tutte.