Thursday, December 1, 2011
Meadow Brook Music Society Concert Series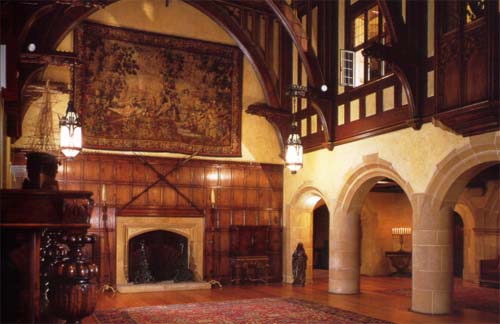 One of the holiday's highlights for many people in the metro Detroit area is Meadow Brook Hall's Holiday Walk, running this year from November 25 until December 22 and celebrating its 40th anniversary.
Get all the details, including ticket information here.
And for the second time, MTD is partnering with Meadow Brook Hall to produce the Meadow Brook Music Society Chamber Music Series, with the opening concert of the series on December 11, when The Hall is in its full holiday glory.
The concerts are held in the Meadow Brook Ballroom, the design of which was inspired by the architecture of late Medieval English manor house great halls. Matilda Dodge Wilson threw spectacular parties there, and today it is available for weddings. A wonderful venue for any occasion, it has marvelous acoustics, making a musical experience particularly magical and dramatic. "The two-story ballroom of Meadow Brook Hall makes an unforgettable atmosphere for enjoying the chamber music concert," says Shannon O'Berski, Marketing & Communications Manager at The Hall.
The December 11 concert features the Oakland Chamber Players performing works by Vaughan Williams, Brahms, Chausson and Paray. Performing will be tenor
Drake Dantzler
, alto
Alta Dantzle
r, violinist
Elizabeth Rowin
, violinist
Velda Kelly
, violist
James Greer
, cellist
Nadine Deleury
, and pianist
Mary Siciliano
. The 5 pm recital will be immediately followed by a wine-and-cheese afterglow offering an opportunity for audience members to meet the performers. Tickets for the afterglow are $15 and must be reserved ahead of time. Tickets for the performance are $20 for the general public and $10 for OU staff, faculty and students and may be purchased ahead of time or at the door. For more information or to order tickets, call Meadow Brook Hall at (248) 364-6263 or visit
meadowbrookhall.org,
click on "Calendar" and then the specific concert date. Please note that tickets for this event are not available at the Varner Box Office or from StarTickets.
Future events in the series include the Oakland Chamber Players with classical guitarist Bret Hoag on Sunday, January 29, and an Oakland Chamber Players concert presentation by Detroit Chamber Winds & Strings on Sunday, March 4. Mark your calendars!
Photo: The ballroom at Meadow Brook Hall, site of the December 11 Meadow Brook Music Society Concert.


Created by Gillian Ellis (gellis@oakland.edu) on Thursday, December 1, 2011
Modified by Gillian Ellis (gellis@oakland.edu) on Tuesday, December 6, 2011
Article Start Date: Thursday, December 1, 2011