Wednesday, November 16, 2011
Gift allows Berkley High School students to pursue career in education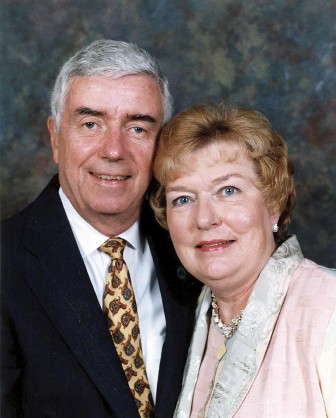 Bill and Gerry Keane
Former School of Education and Human Services (SEHS) Interim Dean Bill Keane and his wife, Gerry, have made a generous gift in memory of Gerry's sister, Irene Demarest, which will allow graduates of Berkley High School to pursue a career in education at Oakland University.

As a professor serving on Oakland's Senate Academic and Honors Committee, Bill, who also served as superintendent of Berkley Schools from 1971 – 1980 and the Oakland Intermediate School District from 1980 to 1994, noticed the tremendous difficulties many students faced working a job in addition to holding a full class schedule. As Bill neared retirement, the Keanes decided to provide scholarship support that would allow students to devote more time to their studies.

"We thought if we could do something to help a student avoid working so many hours, we would be doing a great thing in this life," says Bill. The Keanes inherited a retirement account upon Irene's passing, and, combining this money with other funds, established the Keane/Demarest Endowed Scholarship in the SEHS. In doing this, the Keanes not only have made a lasting impact on the university, but continued a family tradition of honoring loved ones with philanthropic contributions.

The Keanes used an IRA rollover, which allowed them to transfer funds from a retirement account to the university with no taxes or penalties. To take advantage of this opportunity, which lasts through 2011, donors must be at least 70 1/2 years of age and request the transfer of funds as a charitable distribution.

In establishing their gift, the Keanes sought to benefit two institutions which had become dear to Bill over the course of his career in Michigan: Oakland University and the Berkley School District. The scholarship, which the SEHS will begin awarding during the 2012-13 school year, will fund up to half a year's tuition for its recipient. Berkley Schools Superintendent Michael Simeck noted that while the school system has received other scholarships from donors, the Keanes' gift is the first endowment to which Berkley students have access. Because of the lasting nature of an endowed fund, the scholarship will be available to students in perpetuity.

Irene Demarest

"Dr. and Mrs. Keane have made many great contributions to the Berkley School District," says Simeck, "and we encourage the many people positively affected by their work to increase the fund in their honor."

Currently, the Berkley School District is working with Oakland University to build a community match to the Keanes' gift toward the goal of allowing the scholarship to cover an entire year's tuition.
Former School of Education and Human Services (SEHS) Interim Dean Bill Keane and his wife, Gerry, have made a generous gift in memory of Gerry's sister, Irene Demarest, which will allow graduates of Berkley High School to pursue a career in education at Oakland University.

Created by Donna McVay (mcvay2@oakland.edu) on Wednesday, November 16, 2011
Modified by Donna McVay (mcvay2@oakland.edu) on Wednesday, November 16, 2011
Article Start Date: Wednesday, November 16, 2011