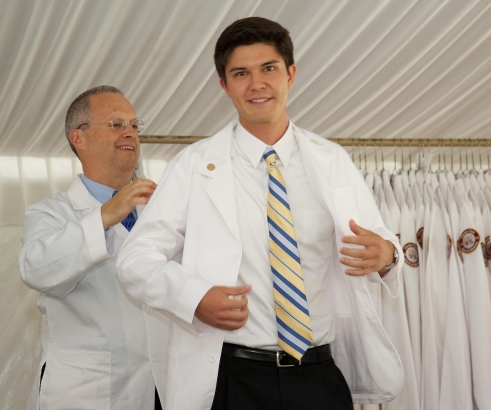 For Oakland University alumnus David McNaughton, medical school is simply the next big challenge. The Clarkston resident and 2010 graduate of Oakland's biology program is now working through his first semester as a member of the Oakland University William Beaumont School of Medicine's charter class.
The experience is a long time coming for McNaughton, who carefully researched and weighed all of his medical school choices. At first he was hesitant to apply to the brand-new school and was favoring programs that were more established, but once he began to interact with faculty and staff, the decision was clear.
"Every person connected to OU's medical school has a passion for it, and that is something both rare and encouraging to see," McNaughton said. "It really draws you in. After the interview day, OU became my top choice."
McNaughton's interest in medicine was sparked at an early age, when his visiting grandmother fell and broke her hip. The young McNaughton told his mother that he wanted to be a doctor so he could help people, and that sentiment hasn't changed.
"I believe it is what I want to do with my life," he continued. "As a physician, you have unique opportunities to go anywhere you like and be able to help people in any place. People open up to you as a doctor, and let you into their lives."
"When I began to shadow physicians, I grew more and more excited about the prospect of becoming one myself. I observed a six-hour surgery on an 11-year-old boy once. The surgeon would turn and explain the procedures to me as he worked. The next day, I was on rounds and I saw the boy with his family, and heard the physician telling them that he would be ok. I saw the impact you can have on people's lives for good, and knew that was what I want to do."
OUWB is the first new medical school that Michigan has seen in more than four decades. Its innovative curriculum combines basic science instruction with clinical training across all four years, and a focus on team-based, participatory learning in small groups.
"It is a great opportunity to be a member of a charter class. It is truly incredible, and something very special. I love that Oakland has partnered with Beaumont, who is known for their high-quality care. I really like the atmosphere and the small class size," McNaughton said. "The OUWB is completely student-centered. As the first class of students, we are the school."
As an undergraduate student at OU, McNaughton was involved in everything from intramural sports to student organizations to working on campus. He spent time conducting research with Dr. Frank Giblin, director of Oakland's Eye Research Institute, served as a tutor in the Academic Skills Center, and even earned an award for commuter student involvement.
"I pretty much lived here without living here," he said. McNaughton's active sense of community has barely slowed as he transitioned from undergraduate student to medical student.
He, along with other members of the charter class, are currently working to create medical student organizations, societies, and a student government. The students hope to lay a strong foundation for future OUWB classes to follow.
"I'll be able to look back in 50 years or so when the school has become prestigious and respected and know I was a part of it," he said. "I know how special it is to be a part of something like this. This kind of opportunity doesn't come along that often. At OUWB, only a select few are able to be involved, and it is a very exciting feeling."
For more information about the school of medicine, view the website at oakland.edu/medicine.