Wednesday, October 19, 2011
OU earns PETA Compassionate Campus Award for vegan course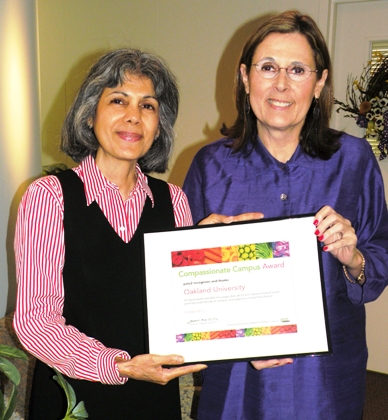 Mouradjian and SON Dean Kerri Schuiling pose with the award.
Oakland University's new vegan diet course is already garnering interest – this time from People for the Ethical Treatment of Animals. The university is the new recipient of PETA's Compassionate Campus Award.
The award gives credence to the School of Nursing's new professional development course, "A Lifestyle Change to Improve Health: The Vegan Diet." The seven-week, online course began in September and offers a unique self-study module each week.
The course's instructor, Marilyn Mouradjian, MSN, RN, is a practicing vegan who has long incorporated the benefits of the vegan diet in her courses. She is pleased to receive support so early in the curriculum.
"I felt it was an honor for both myself and the university to be recognized as being a compassionate university by a prestigious and renowned non-profitable humane organization," she said. "It adds another layer of depth to the attraction of the main message of this course."
Participants will learn how a vegan diet offers a well-balanced approach that offers benefits beyond the prevention of chronic illnesses that are often caused by poor choices in diet and lifestyles.
Plans are already in place for a second session of the course. It is set to run from Monday, Jan. 9, through Saturday, Feb. 25, and costs $200. The course is open to the public. The current session includes 17 students from various locations worldwide, including New Zealand, Germany, England, and Canada.
Mouradjian is pleased to help bring such positive interest to the university.
"Our school is being recognized both nationally and internationally for being progressive in the arena of nutrition and health by the offering of this course," she said. "The course is very important because of the potential of positive benefits for human health, animal welfare and the environment."
For more information about the course or registration, visit
oakland.edu/pace
or e-mail to
mouradji@oakland.edu
.
OU's new vegan diet course is already garnering interest – this time from PETA. The university is the new recipient of PETA's Compassionate Campus Award.

Created by Katherine Land - Deleted (land@oakland.edu) on Wednesday, October 19, 2011
Modified by Katherine Land - Deleted (land@oakland.edu) on Wednesday, October 19, 2011
Article Start Date: Wednesday, October 19, 2011