Tuesday, October 18, 2011
President's Scholarship Luncheon celebrates students, donors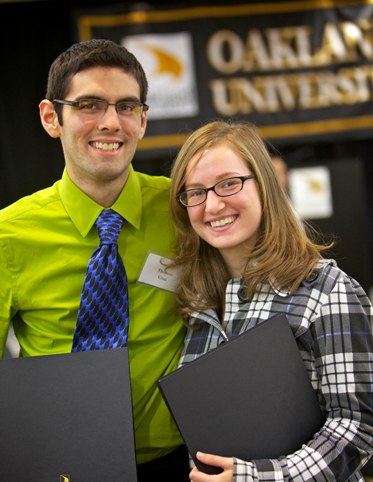 OU students Thomas Cruz and Meagan Thrower at the luncheon.
Many Oakland University students benefit from scholarship support made possible by the generosity of benefactors. But few students have the opportunity to personally thank the donors. Those who attended the President's Scholarship Luncheon this October enjoyed just such an afternoon of celebration and gratitude.
In remarks to the audience, OU President Gary Russi expressed thanks and appreciation to the scholarship donors. "Thank you, Oakland alumni and friends, for your valuable contributions to scholarships that make it possible for our students to attend our great university. Your gifts promise an exceptional and diverse student body, who distinguish Oakland University as a leading institution."
Many students also expressed appreciation for their scholarship awards.
"I couldn't have imagined what an impact this scholarship has had on me. It has helped me out tremendously. My position working in the College of Arts and Sciences has been wonderful. I can't thank Oakland enough for the opportunity to receive this scholarship," said Maia Proulx, elementary education major, and recipient of the Working Student Scholarship.

"Worrying about paying for school is the biggest problem for students. My scholarship allows me to focus on my studies and campus involvement rather than worrying about how to pay for school," said Meagan Thrower, biomedical diagnostics major from Richmond, Michigan and recipient of the Alice Shotwell Gustafson Keeper of the Dream Endowment.
The rewards of giving, and giving back, were clearly represented among the more than 100 scholarship recipients and many scholarship donors who were recognized at the reception and luncheon.

"My scholarship has made life easier. A lot of students have a hard time re-paying school loans. I don't want to graduate in debt. It is very nice to be recognized with my scholarship award, said Thomas Cruz, recipient of the Working Student Scholarship.

"If I had not received this scholarship I would have had to take out loans. Receiving the scholarship has made it possible for me to continue my studies. For that, I am very grateful," said Brittany Forth, writing and rhetoric major and recipient of the David and Marion Handleman Scholarship Endowment.

OU alumni, donors and friends contributed or pledged an impressive $1.4 million during the 2010-11 fiscal year for student scholarships, said Eric Barritt, vice president for community engagement, Division of University Relations.

In addition, the Oakland University Alumni Association has raised more than one million dollars to qualified student since the inception of its scholarship program. "These are remarkable accomplishments reflective of the pride and spirit of giving back that is evermore present among our alumni and donor base" Barritt said.

Betty Youngblood, associate vice president for Outreach and executive director of OU-Macomb, also spoke to the audience, "The endowed scholarship that I support at OU honors the memory of my parents. The scholarship recognizes and continues my parents' efforts to contribute to a better world and to do so by always giving back what one receives in life. The education and the inspiration that I received as an OU student made a tremendous difference in my life, both personally and professionally. Reflecting on that experience, the opportunity to help today's students make their mark at OU and in the world is truly as meaningful for me as it is for the students."

The President's Scholarship Luncheon allows many OU students who benefit from scholarship support to celebrate and thank their benefactors.

Created by Katherine Land - Deleted (land@oakland.edu) on Tuesday, October 18, 2011
Modified by Katherine Land - Deleted (land@oakland.edu) on Tuesday, October 18, 2011
Article Start Date: Tuesday, October 18, 2011