Tuesday, October 11, 2011
Honorary degree nominations accepted through Friday, Nov. 18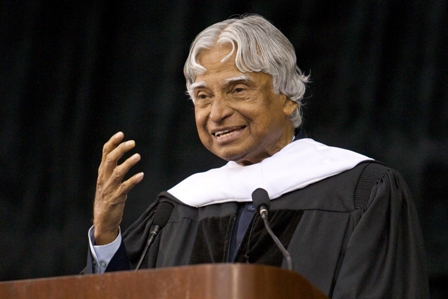 A.P.J Abdul Kalam, India's 11th president, received an OU honorary degree in 2009.
Oakland University officials are currently seeking outstanding candidates to receive an honorary degree in 2011-12. Nominations are being accepted now through Friday, Nov. 18.
By conferring honorary degrees, the university reaffirms its scholarly, creative and humanitarian values as well as its ties to the wider community.
Prime candidates should be individuals whose achievements include original and creative accomplishments within one or more academic disciplines or significant contributions to humankind's intellectual, cultural, commercial, aesthetic, social, or civic betterment.
These individuals may excel in a variety of vocations such as academe, business, government, the professions, or civic, cultural, humanitarian, or public affairs.
Honorary degrees will be awarded only on an occasional basis by the Board of Trustees to individuals of special merit. Consequently, the number and frequency of such awards should reflect their distinctive character.
Nominations will be reviewed by the Honorary Degree Screening Committee, and nominees must be recommended by the Senate Steering Committee and the president. Oakland employees are not eligible.
For more information about honorary degree nominations,
view the website
. To view a list of previous recipients,
click here
.
OU officials are seeking honorary degree candidates for 2011-12. Nominations are due Friday, Nov. 18.

Created by Katherine Land - Deleted (land@oakland.edu) on Tuesday, October 11, 2011
Modified by Katherine Land - Deleted (land@oakland.edu) on Tuesday, October 11, 2011
Article Start Date: Tuesday, October 11, 2011