Wednesday, September 28, 2011
International Village creates unique sense of community
By Eric Reikowski, media relations assistant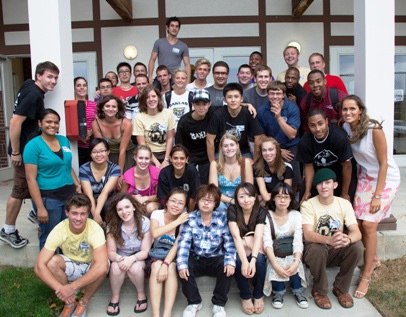 International and domestic students at Oakland University live together at the International Village, now celebrating its second year.
Oakland University's International Village recently celebrated its second year in existence. A dynamic living and learning community, the program offers domestic and international OU students the opportunity to live together and gain a better understanding of each other's countries, cultures and customs.

The initiative was launched in fall 2009 and is jointly coordinated by the International Students and Scholars Office (ISSO) and University Housing.

"I am excited and pleased to see dreams come true for Oakland University students through the International Village," said Petra Knoche, ISSO assistant director. "The feedback from students who have lived in the village over the past two years has been incredibly positive. They have been very thankful for the experience."

Since its inception, the program has grown to 38 residents and, this fall, will host students from 12 countries, including France, Germany, Sweden, Japan, Iran, Saudi Arabia, Scotland, China, Malta and Canada. The community is housed in building 7000 of the Ann V. Nicholson Student Apartments.

Along with campus-wide events, international village members also participate in a variety of exclusive activities, such as International Food Night, a festive occasion where students share homemade cultural fare with fellow residents. Trips to sporting events and museums are also part of the village experience.

OU student Jing Fan participated in the program during the past year and enjoyed the experience. "I had a wonderful time living in the International Village," said Fan, an electrical engineering major from China. There are many activities and people from all over the world. It really enriched my life at OU."

The upcoming year promises to be the best yet, with an itinerary that includes a special welcome reception, international food nights, holiday parties and a Thanksgiving dinner.
For additional information on the
International Village
and other ISSO programs, call (248) 370-3358 or visit the office in 157 North Foundation Hall.
OU's International Village recently celebrated its second year, offering domestic and international OU students the opportunity to live together.

Created by Katherine Land - Deleted (land@oakland.edu) on Wednesday, September 28, 2011
Modified by Katherine Land - Deleted (land@oakland.edu) on Wednesday, September 28, 2011
Article Start Date: Wednesday, September 28, 2011