Thursday, September 15, 2011
Research scientist and OU alumnus returns to campus
By Stephanie Held, media relations intern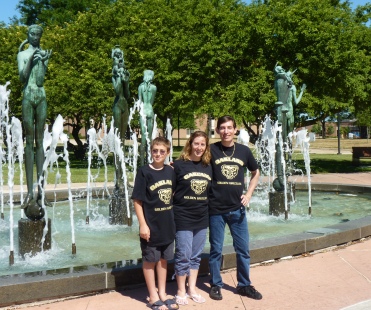 OU alumnus Roger Fachini II, returned to campus for a tour this summer, along with his wife Wendy and son Roger Fachini III.
This summer, Oakland University alumnus Roger Fachini II, CAS '89, made his way back to campus for a nostalgic tour and to share the academic and professional experiences he has had following his time at OU.
Now a research scientist in Los Angeles working for Amgen, a large biotechnology companies, Fachini works to engineer and produce proteins for research.
He knew it was time to come back after attending an OU Alumni Association reception in Santa Monica this June. Happy to reconnect with his alma mater, Fachini became interested in returning to his old school to reminisce and see all that had changed.

Initially, Fachini chose to attend OU because of its convenient location and strong educational reputation. However, the experiences he had here while earning his bachelors degree in biology broadened his future ambitions far more than he had expected.

Years later, he became nostalgic while visiting the anatomy classroom on the tour. Fachini explained that biology had always been his main point of interest in academics but he also enjoyed physics and organic chemistry. He also had fond memories of classes in philosophy and linguistics.

According to Fachini, the OU experience that impacted him most was having the opportunity to study and research with his professor, Paul Ketchum, in the lab. There, they hoped to isolate the molybdenum cofactor structure, which is part of several enzymes.

"Working in Paul's lab allowed me to work one on one with a professor as an undergraduate and learn about instrumentation and methods," Fachini recalled. "More importantly, it let me see how scientists think and go about tackling actual experimental projects--the process of pursuing questions that no one has ever found answers to, yet."

Aside from his research, Fachini stayed active by starting a karate club at the Oakland fitness center and joining the student fencing club.

Succeeding his studies at OU, Fachini completed his graduate work at UCLA by researching primarily with Professor Stephen Clarke on the changes of proteins during aging in human beings, and with Professor Joan Valentine on the superoxide dismutase enzyme.
Fachini spoke humbly of all of his work and research and is thankful for his time at UCLA. "And I met somebody," Fachini said proudly taking his wife, Wendy's hand.

The couple met in the graduate dorms on UCLA's campus. Wendy got her graduate degree in musicology. They have a son, Roger Fachini III, who is in a program from John Hopkins for talented youth. He is 11 years old.
Pleased with his family, work, and life in California, Fachini credits his Oakland education for getting him started on the path, and for providing the background and skills necessary to succeed on his own.


To learn more about For more information about the OUAA or to find out how to become involved, view the website at
oakland.edu/ouaa
.
Research scientist and OU alumnus Roger Fachini II, CAS '89, returned to campus for a tour and to share the experiences he has had following his time at OU.

Created by Katherine Land - Deleted (land@oakland.edu) on Thursday, September 15, 2011
Modified by Katherine Land - Deleted (land@oakland.edu) on Thursday, September 15, 2011
Article Start Date: Thursday, September 15, 2011